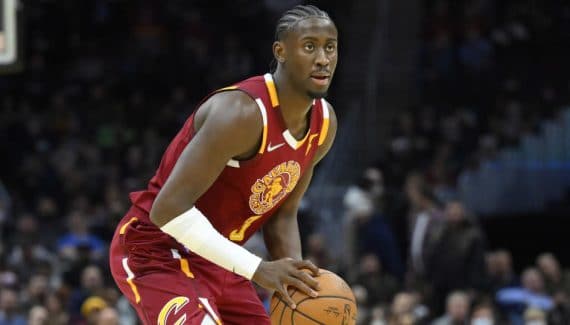 While Darius Garland is still plagued with back problems, and he will miss Thursday's trip to the Pistons, the Cavaliers must also deal with the injury of their new recruit, Caris LeVert.
Arrived in his native Ohio just before the "trade deadline", from Indianapolis, the 27-year-old rear suffers from a sprained right foot, probably occurred during the "All-Star break", which will keep him away grounds for at least a week, if not two weeks.
A new blow for Cleveland, currently in 4th place in the Eastern Conference (35 wins for 23 losses), which can therefore only count on the presence of Rajon Rondo, Isaac Okoro and Brandon Goodwin in its "backcourt", in order to begin the home straight of this 2021/22 season.
#Cavs will likely be without Caris LeVert for a week or two with his sprained foot.

— Tom Withers (@twithersAP) February 24, 2022
Caris LeVert
Percentage
Bounces
Season
Team
GM
Minimum
Shots
3 points
LF
Off
Def
Early
pd
party
Int
bp
CT
Points
2016-17
BRK
57
22
45.0
32.1
72.0
0.4
2.9
3.3
1.9
1.6
0.9
1.0
0.1
8.2
2017-18
BRK
71
26
43.5
34.7
71.1
0.8
2.9
3.7
4.2
2.2
1.2
2.2
0.3
12.1
2018-19
BRK
40
27
42.9
31.2
69.1
0.9
2.9
3.8
3.9
1.9
1.1
1.7
0.4
13.7
2019-20
BRK
45
30
42.5
36.4
71.1
1.1
3.1
4.2
4.4
1.8
1.2
2.6
0.2
18.7
2020-21 *
All Teams
47
32
44.1
32.6
81.1
0.7
3.9
4.6
5.2
2.2
1.4
2.2
0.6
20.2
2020-21 *
IND
35
33
44.3
31.8
82.2
0.7
4.0
4.6
4.9
2.4
1.5
2.2
0.7
20.7
2020-21 *
BRK
12
28
43.5
34.9
76.5
0.8
3.5
4.3
6.0
1.7
1.1
2.2
0.5
18.5
2021-22
IND
37
31
43.5
32.8
76.3
0.8
3.0
3.8
4.3
2.3
0.9
1.9
0.5
17.8
Total
297
27
43.5
33.4
73.7
0.8
3.1
3.9
3.9
2.0
1.1
1.9
0.3
14.6