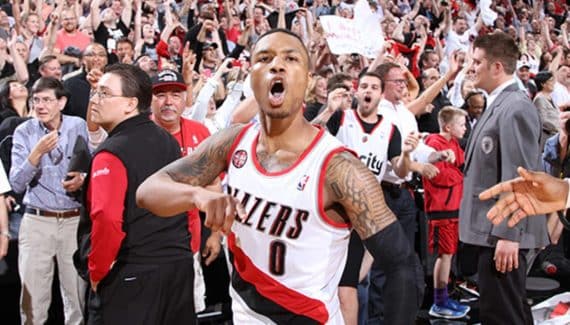 This is the first great moment of "Dame Time". For his first playoffs, Damian Lillard thus qualifies his Blazers for the conference semi-final with a legendary shot, at the buzzer, against the Rockets.
"It's definitely the biggest shoot of my life…so far"slipped the mischievous leader after this completely crazy meeting (99-98), which came to close an incredible series (4-2), marked by three extensions and many decisive shots against the Houston of James Harden and Dwight Howard.
"It was an incredible victory, and I don't know if it could have been more dramatic"confided Terry Stotts. " I think that he (Damian Lillard) lives for those moments. It was a remarkable shoot. »
There are only 9 tenths of a second left on the clock when Nicolas Batum is about to make the throw-in. The Rockets lead 98-96 and are about to return to Texas for a Game 7 with the advantage of the field .
But Damian Lillard surprises Chandler Parsons on his start and appears surprisingly alone in front of his French teammate, clapping his hands to claim the ball quickly. Nicolas Batum complies, Chandler Parsons is too far and Damian Lillard assassinates Houston at the buzzer, while Kevin McHale had nevertheless instructed his players to avoid offering a 3-pointer at all costs…
Even with a bit of space, shooting isn't easy at all for a right-hander, and he sends the Moda Center into a trance.
"We felt we were a great team"explained Nicolas Batum. "We can do something special. We said it on day one of training camp, 'We know we can beat these guys,' and we did. It was a crazy game. There have been some crazy matches in this series. We will remember this series, but we have to move on. We're going back to Texas. »
It is indeed the Spurs who present themselves next on the road to Portland. Problem: Gregg Popovich's men are untouchable this season, on their way to the title after the disillusionment of the previous year, and they will take charge fairly quickly of bringing Damian Lillard and the Blazers back down from their cloud (4-1) .