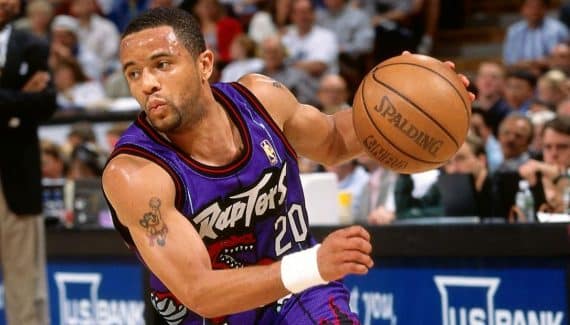 On September 30, 1993 and then on April 27, 1994, the creations of two new franchises were validated, respectively the Toronto Raptors and the Vancouver Grizzlies. Canada had just entered the NBA, after a first and short experience in BAA with the Huskies in 1946-1947.
The two new teams were empty and had to be filled. A somewhat special Draft, called expansion, was organized on June 24, 1995. The principle was simple: the 27 other franchises in the league protected eight players in their squad and the rest was available for Toronto and Vancouver.
Raptors first pick traded three months later
The NBA had decided between the two franchises with a coin toss. The Grizzlies have won the traditional Draft (they will have the sixth choice, ahead of the Raptors), so it's Toronto who will have the hand to start the expansion Draft. Then it's each turn.
As the first pick, the Raptors, under GM Isiah Thomas, will seek out BJ Armstrong of the Bulls. The Chicago champion will be transferred in stride, in September 1995, to Golden State, because he wanted to play in a more competitive team. The Grizzlies take on Greg Anthony from the Knicks.
We see it and it's normal, the two teams have mainly been looking for additional players. As the latter must evolve together without any collective experience, sometimes without the pleasure of having been "transferred" overnight, the inaugural seasons did not promise to be memorable.
If Toronto will succeed in winning 21 matches, against 15 for the Grizzlies, it is mainly thanks to the traditional Draft, organized on June 28, 1995. Vancouver chose in sixth position Bryant Reeves, correct pivot but who did not make the dream fans. Toronto, on the other hand, will have a fine nose with Damon Stoudamire, elected rookie of the year 1996 and first star of the franchise.
We know the rest of the story: Toronto will really manage to take off with the arrival of Vince Carter in 1998, when the Grizzlies will remain dunces, before their move to Memphis in 2001.