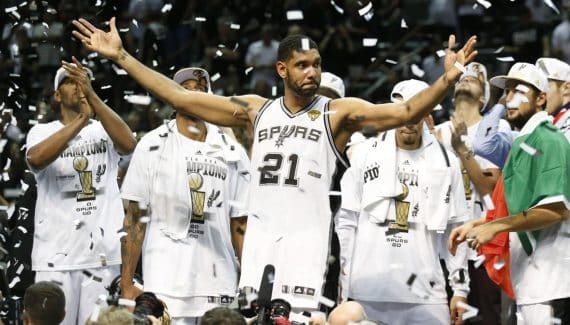 The Spurs of 2014 marked the spirits with their collective game so fluid, so altruistic. The Heat, powerless in these Finals against such a machine, had even paid tribute to the formation of Gregg Popovich.
Chris Bosh had spoken of the " best basketball "that he's seen in his career, when LeBron James felt that's the way it is" that we should play basketball collectively ".
No doubt these compliments have never been so true as during the first 24 minutes of Game 3, played on June 10, 2014 in Miami. During this half, the Spurs will offer a basketball lesson to LeBron James, Dwyane Wade, Chris Bosh and company. They will win the match with the score of 111-92. A score in trompe l'oeil as there was a gap that evening between the two teams.
Not that the two-time defending champion was bad during this first act, he was simply overwhelmed by such mastery and simplicity.
"You can't predict this kind of thing", reacted Manu Ginobili. "There are no secret or magical systems. We rotated the ball and all the shots went in. »
76% shooting success!
One would be tempted to think that the Argentinian exaggerates. But it is not far from reality. The Texans register 19 of their first 21 shots! They end this half (won 71-50) with an incredible 25/33 to shoot, or 75.8% success! Never seen. No team had scored more than 70 points in a first half in the Finals since the Lakers in 1987…
Except that the figures are not enough to transcribe the impression of domination left by these minutes of perfection. The movement of the ball and the players is perpetual. Screens and cuts to the circle are multiplying. The Florida defense can never be organized. And since decisions are made very quickly and the talent of Spurs is enormous, the defenders are overwhelmed and the attackers have only to conclude.
This harmony of movements seems so natural and simple that we almost forget that it is exceptional at this level.