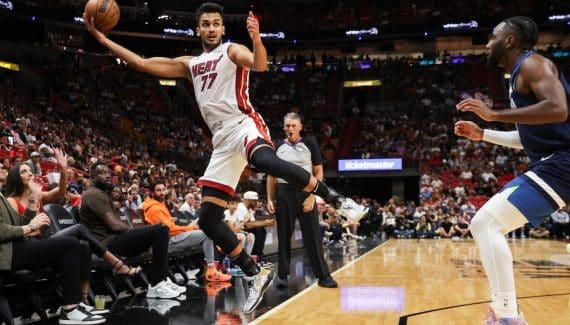 When turning his back on his selection, Omer Yurtseven probably did not imagine the turn of events to come. While his Turkish compatriots were playing the Euros, the interior was preparing for its second NBA season with the hope of finding its place in the Heat rotation.
" If I want minutes, I'll have to get them during the 'training camp' ", had posted the 24-year-old player in September, betting on a big physical preparation. Unfortunately for him, the physique did not hold since he had to have ankle surgery in mid-November.
The native of Istanbul was thus kept away from NBA halls until a very first appearance a few days ago, on the floor of the Magic. " I was really looking forward to it. I tried to be ready no matter what. I really wanted to win, do everything I could to help us », Displays the pivot who did not score (0/1 and 1 rebound) during his seven minutes of play, divided into two passages.
Author of a recent freelance in the G-League with the Sioux Falls Skyforce (27.5 points and 13.5 rebounds on average in two games), the undrafted player agrees: " It's still an adjustment. It was my first time on the pitch and the first pass felt different, it's something I'm not used to. But I believe that during my second round, I was on the pace, in speed and I felt much better. »
Omer Yurtseven is confident he can help the Heat in several areas. And Erik Spoelstra has a good chance of mobilizing him again in the days to come. Quite simply because the coach has to revamp his racket in the absence of Cody Zeller, now the main rotation behind Bam Adebayo. The newcomer, who came to replace Dewayne Dedmon and who passed the young Orlando Robinson in the hierarchy, has just broken his nose.
The shooting window seems short but it's a good time for Omer Yurtseven to show up. " That's my role, being able to rebound, set screens, play pick-and-rolls and the like. And getting the guys to be open, I think that's the most important thing ", enumerates the pivot, also citing the obtaining of more offensive rebounds.
The Turk probably still has in mind his status as "the last survivor of the Miami racket" from which he benefited last year, due to multiple injuries to teammates, including that of Bam Adebayo. Between the end of December 2021 and mid-January 2022, the interior had thus taken advantage of the moment to average around 14 points (55%) and 14 rebounds over ten games.
Omer Yurtseven
Percentage
Bounces
Season
Crew
GM
Minimum
Shots
3 points
LF
Off
Def
Early
pd
party
Int
bp
CT
Points
2021-22
MIA
56
13
52.6
9.1
62.3
1.5
3.7
5.3
0.9
1.5
0.3
0.7
0.4
5.3
2022-23
MIA
1
7
0.0
0.0
0.0
1.0
0.0
1.0
0.0
1.0
0.0
0.0
0.0
0.0
Total
57
13
52.4
9.1
62.3
1.5
3.7
5.2
0.9
1.5
0.3
0.7
0.4
5.3