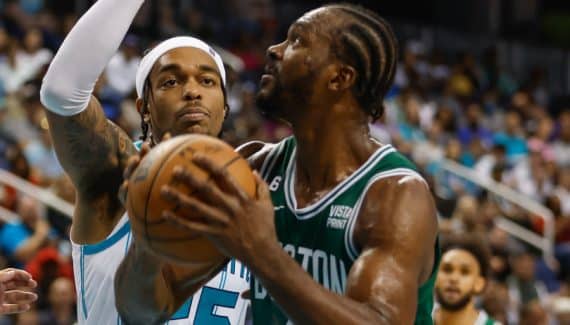 noah vonleh on track to confirm his return to the NBA? Invited to the Celtics' training camp, the interior takes advantage of the preseason to show itself. After a recent outing with 7 points and 9 rebounds, he has just signed a nice double-double (14 points at 6/8 on shots and 13 rebounds) against the Hornets.
" things are going well so far. I take things day by day, I learn the operation, the systems and I watch a lot of videos to situate myself and acclimatize », testifies this league veteran who got rid of a hamstring injury thanks to the Celtics medical staff.
The Hornets, against whom he shone a few days ago, he knows them well since Charlotte drafted him in 9th position in 2014, at the age of 19.
He has never really confirmed this status, linked to such a position, since. Apart from his season with 8 points and 8 rebounds on average with the Knicks in 2019, he had a lot of trouble stabilizing (Blazers, Bulls, Wolves, Nuggets…).
Such instability that he had to leave the big league to join the Chinese championship last year. There, with the Shanghai Sharks, the Massachusetts native averaged 15 points, 10 rebounds, 2 assists and 2 steals in 23 minutes over 20 games.
Being useful to Jayson Tatum and Jaylen Brown
" It was a good experience. I was able to show beautiful things, I shot very well, I felt comfortable playing more freely. I'm happy to be back here with this opportunity, to be able to come back to my hometown and have a chance to join this squad. ", continues the interior, who thinks he can be useful alongside the" two headed monster from the team, Jayson Tatum and Jaylen Brown.
" The most important thing when I come in and I'm on the court with these guys is to find space, try to allow them to be open, get a mismatch and use my physique to create spaces. And if they want to send it to me when I have a rear on me, we will exploit it too. »
It will also be up to Joe Mazzulla to decide, but the long absence of Danilo Gallinari, coupled with the less serious injury of Robert Williams, could benefit Noah Vonleh, despite the recent signing of Blake Griffin under the panels. Noah Vonleh does not yet know if Boston will be his final destination. " But I'm happy to be here today. I stay in the moment he concludes.