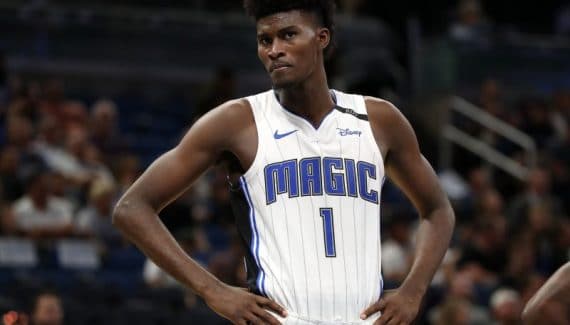 Months passed and as Jonathan Isaac still did not return, it seemed logical that he would not play again this season. The Magic have made things official, announcing that the interior will only return in 2022/23.
"The health of our players is always our priority", explains the president of the MagicJeff Worldman. "We must remember that he missed two years. It is safer not to play him this season. I know our fans are frustrated, but he is working hard to come back. We don't have time to prepare him for him to play this season. "
Jonathan Isaac will therefore have missed two seasons in a row. As a reminder, he injured the anterior cruciate ligament in his left knee on August 2, 2020 in the "bubble", and had not played a single meeting in 2020/2021.
The Orlando interior is still young as he will only be 25 next October, but after two missed seasons and with a major contract extension ($ 17.4 million this season and the next three) signed in December 2020, he will have a lot to prove when he returns next season.
Shots
Bounces
Players
GM
Minimum
Shots
3 points
LF
Off
Def
Early
pd
bp
Int
CT
party
Points
Cole Anthony
55
32.8
39.5
33.7
86.4
0.5
5.1
5.6
5.7
2.7
0.8
0.3
2.7
17.3
Franz Wagner
69
31.7
46.5
35.6
84.8
1.1
3.6
4.7
3.0
1.6
0.9
0.4
2.1
15.2
Wendell Carter, Jr.
58
29.9
51.7
32.7
70.1
2.2
8.2
10.4
2.7
1.8
0.6
0.7
2.7
14.6
Jalen Suggs
46
27.7
36.1
21.6
77.3
0.6
3.1
3.7
4.4
3.0
1.2
0.4
3.0
12.1
Gary Harris
59
28.6
43.9
39.0
87.1
0.6
1.4
2.0
1.8
1.0
0.9
0.2
1.9
11.3
Mohammad Bamba
58
26.1
47.8
35.9
82.8
2.1
5.9
8.0
1.1
1.1
0.6
1.7
2.6
10.4
Terrence Ross
58
23.5
39.7
29.8
86.8
0.3
2.2
2.6
1.9
1.3
0.5
0.2
1.1
10.1
Markelle Fultz
6
17.4
53.3
40.0
76.9
0.5
2.3
2.8
5.5
1.7
0.8
0.2
1.3
10.0
Chuma Okeke
58
24.1
38.2
31.0
85.5
0.7
4.1
4.8
1.7
0.8
1.4
0.6
1.4
8.3
Moe Wagner
50
13.1
50.2
33.8
80.8
0.5
2.4
2.9
1.1
0.8
0.3
0.2
1.8
8.2
Robin Lopez
28
17.4
56.7
40.0
59.5
2.0
1.7
3.7
1.6
1.3
0.0
0.6
1.9
7.6
Rj Hampton
51
20.2
38.7
37.3
61.5
0.3
2.6
2.9
2.3
1.3
0.7
0.2
1.5
7.2
Bj Johnson
4
16.1
44.0
40.0
0.0
1.5
2.2
3.8
0.0
0.0
0.0
0.2
1.0
6.5
Hassani Gravett
8
21.4
47.4
42.3
75.0
0.1
2.5
2.6
2.5
1.1
0.6
0.1
1.6
6.2
Tim Frazier
10
20.0
30.2
35.3
55.6
0.5
1.4
1.9
3.3
1.3
0.3
0.1
2.4
3.7
Mychal Mulder
15
13.0
29.9
28.3
100.0
0.1
1.3
1.4
0.2
0.5
0.3
0.1
0.8
3.7
Admiral Schofield
29
10.3
45.6
31.1
70.0
0.4
1.5
1.9
0.6
0.5
0.1
0.1
1.2
3.2
Ignas Brazdeikis
31
9.1
40.7
30.8
76.5
0.4
0.9
1.3
0.7
0.3
0.3
0.1
0.9
3.2
Aleem Ford
5
14.7
30.0
13.3
0.0
0.4
2.6
3.0
0.4
0.8
0.2
0.0
1.4
2.8
Freddie Gillespie
9
13.2
40.9
0.0
42.9
1.4
2.6
4.0
0.6
0.6
0.3
1.0
2.0
2.3