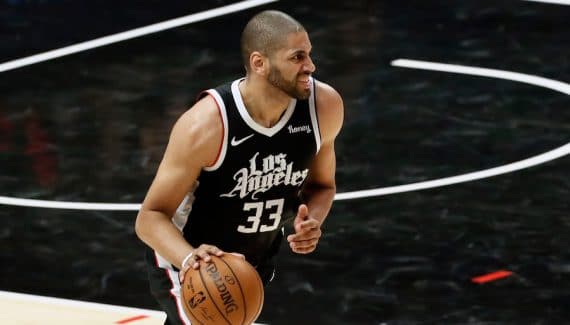 What if Nicolas Batum was currently playing the best basketball of his career in the NBA…. It is hardly exaggerating since the French turns to 17 points, 6 rebounds on average for five matches, with 4.4 successes at 3-points per game, for very good percentages: 64% on shots and 60% on 3-points. A series that allows the Clippers to chain five straight wins to climb to 5th place in the West, tied with Memphis and Denver.
After the meeting, Nicolas Batum mainly talked about the team, and especially not from him. He praised the collective of the Clippers, and the series that made the difference against the Blazers. He insisted on the fact that the defense is not yet level, especially on the side without the ball, and finally to discuss his current good pass, we must turn to Reggie Jackson.
The leader remained in front of the press for more than 15 minutes, and for five minutes, he spoke about Nicolas Batum !
" When Nico plays badly, it's because we don't do our job, especially in defense »He answers first, before continuing. " I'm not gonna lie, growing up Portland was my second favorite team so I watched Nico play a lot. I have always admired his game, his way of being, his game, his way of behaving… There is this shot in the 3rd or the beginning of the 4th… He is incredible in defense, he defends on all the ground. It's crazy that he's the one who played the most minutes last year, then he went to the Olympics… He came back and he defends on all-terrain guys. "
"I am just proud to say that he is my teammate, proud to consider him as a brother"
As often with Reggie Jackson, it goes all over the place. Then, after recalling the stats of Nicolas Batum against Portland, he let go even more.
" He takes care of the best opposing striker every night, he never complains… I don't know if there is a better guy or a better teammate. Whatever we need, in attack, in defense, he takes care of it. He played pivot last year and again this year. There is nothing he cannot do. He can lead the game, score, shoot, put in important shots, make decisive actions in defense. When you have a guy like that to go to the front, you tell yourself that you are privileged, really privileged, because he is a rare person.. "
We tell ourselves that Reggie Jackson is done, but he's putting on a big layer.
" He's not claiming any recognition, and I just hope he'll never be ignored, because this guy is unique. He is the strongest link in our team, he holds us together, he does whatever we need, he is a silent assassin. He deserves his compliments. It is important to us. This is one of the main causes of our streak of five victories. I'm just happy he's my teammate… I'm just proud to say he's my teammate, proud to think of him as a brother and to play with him every night. This guy is a super hero. Frankly, he's a super hero and he deserves all the compliments. I don't know what to say more. I'm lucky he's my teammate, we all are".
Nicolas batum
Percentage
Rebounds
Season
Team
MJ
Min
Shots
3pts
LF
Off
Def
Early
Pd
Fte
Int
Bp
Ct
Pts
2008-09
POR
79
18
44.6
36.9
80.8
1.1
1.7
2.8
0.9
1.8
0.6
0.6
0.5
5.4
2009-10
POR
37
25
51.9
40.9
84.3
0.9
3.0
3.8
1.2
2.2
0.7
0.7
0.7
10.1
2010-11
POR
80
32
45.5
34.5
84.1
1.4
3.2
4.5
1.5
2.4
0.9
1.0
0.6
12.4
2011-12
POR
59
30
45.1
39.1
83.6
1.4
3.2
4.6
1.4
1.8
1.0
1.5
1.0
13.9
2012-13
POR
73
38
42.3
37.2
84.8
1.3
4.3
5.6
4.9
1.9
1.3
2.6
1.1
14.3
2013-14
POR
82
36
46.5
36.1
80.3
1.4
6.0
7.5
5.1
1.9
0.9
2.5
0.7
13.1
2014-15
POR
71
34
40.0
32.4
85.7
0.9
5.0
5.9
4.8
1.5
1.1
1.9
0.6
9.4
2015-16
CHA
70
35
42.6
34.8
84.9
0.8
5.3
6.1
5.8
1.6
0.9
2.9
0.6
14.9
2016-17
CHA
77
34
40.3
33.3
85.6
0.6
5.7
6.3
5.9
1.4
1.1
2.5
0.4
15.1
2017-18
CHA
64
31
41.5
33.6
83.1
0.9
3.9
4.8
5.5
1.1
1.0
2.1
0.4
11.6
2018-19
CHA
75
31
45.0
38.9
86.5
1.0
4.3
5.2
3.3
1.9
1.0
1.6
0.6
9.3
2019-20
CHA
22
23
34.6
28.6
90.0
1.1
3.4
4.6
3.0
1.9
0.8
1.0
0.4
3.6
2020-21
LAKE
67
27
46.4
40.4
82.8
0.8
4.0
4.7
2.2
1.5
1.0
0.8
0.6
8.1
2021-22
LAKE
18
26
50.4
42.0
50.0
0.4
4.1
4.5
1.5
1.2
1.2
0.9
0.7
8.7
Total
874
31
43.7
36.2
83.9
1.0
4.2
5.2
3.6
1.7
1.0
1.7
0.6
11.2