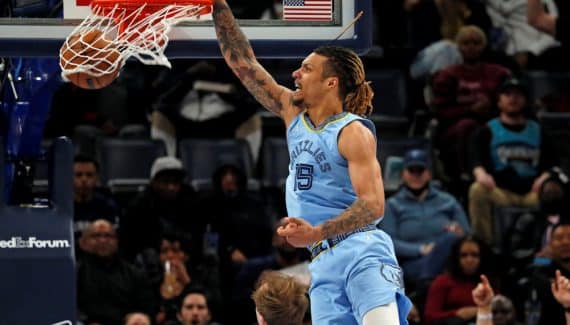 He's not necessarily the player with the most media exposure, but Brandon Clarke remains an important soldier of the Taylor Jenkins device. Efficient interior (64.4% shooting success last season) and big rebounder, he is one of the best elements in the league in his role of "energizer" off the bench.
His perseverance was rewarded since after having seen his fourth year of his rookie contract activated, Brandon Clarke signed a 52 million dollar extension over four years. No option in this contract, and 50 of the 52 million dollars are guaranteed.
He is the fifth Grizzlies player extended in the past two seasons after Ja Morant, Jaren Jackson Jr, Steven Adams and John Konchar. Next year, we will have to deal with the case of Desmond Bane, whose contract extension should, on the other hand, exceed 100 million dollars.
Brandon Clarke
Percentage
Bounces
Season
Crew
GM
Minimum
Shots
3 points
LF
Off
Def
Early
pd
party
Int
bp
CT
Points
2019-20
SAME
58
22
61.8
35.9
75.9
1.6
4.4
6.0
1.4
1.7
0.6
1.0
0.8
12.1
2020-21
SAME
59
24
51.7
26.0
69.0
1.6
3.9
5.6
1.6
1.4
1.0
0.6
0.9
10.3
2021-22
SAME
64
20
64.4
22.7
65.4
2.1
3.2
5.3
1.3
1.9
0.6
0.5
1.1
10.4
Total
181
22
59.1
29.4
69.9
1.8
3.8
5.6
1.5
1.7
0.7
0.7
0.9
10.9