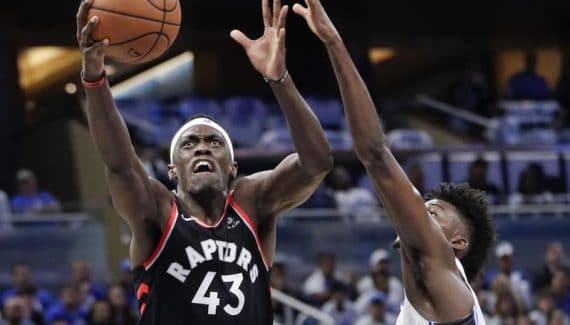 The end of the tunnel is getting closer for Pascal Siakam, hit in the left shoulder (tear in the labrum) last May and operated on the following month. The time to recover from an injury of this type is generally estimated at five months, which would allow the Cameroonian to plan on a return around mid-November.
A new step was taken this week, Pascal Siakam having been authorized to resume full training with the Raptors since yesterday, which would indicate that he would be ready to participate in contact exercises, a still important milestone in the rehabilitation process. .
Back in a month?
TSN's Josh Lewenberg added that the leader of the Raptors would then travel to Mississauga, a western suburb of Toronto, where the 905 Raptors G-League team is based.
The training coached by Patrick Mutombo is organizing a training camp this week. Pascal Siakam was therefore invited (like Yuta Watanabe) to continue his rise in power before returning to the NBA floor. His return could take place around the "Thanksgiving" holiday in the United States on November 25.
Pascal Siakam and Yuta Watanabe both practiced in full today, per Nick Nurse, which would indicate that Siakam has been cleared for full contact. Plan is for both of them to make the trip to Mississauga tomorrow and practice with the 905, who are holding camp this week.

– Josh Lewenberg (@ JLew1050) October 26, 2021
Pascal Siakam
Percentage
Rebounds
Season
Team
MJ
Min
Shots
3pts
LF
Off
Def
Early
Pd
Fte
Int
Bp
Ct
Pts
2016-17
TOR
55
16
50.2
14.3
68.8
1.2
2.2
3.4
0.3
2.0
0.5
0.6
0.8
4.2
2017-18
TOR
81
21
50.8
22.0
62.1
1.0
3.5
4.5
2.0
2.1
0.8
0.8
0.5
7.3
2018-19
TOR
80
32
54.9
36.9
78.5
1.6
5.3
6.9
3.1
3.0
0.9
1.9
0.7
16.9
2019-20
TOR
60
35
45.3
35.9
79.2
1.1
6.3
7.3
3.5
2.8
1.0
2.5
0.9
22.9
2020-21
TOR
56
36
45.5
29.7
82.7
1.7
5.5
7.2
4.5
3.1
1.1
2.3
0.7
21.4
2021-22
TOR
17
34
47.0
30.0
74.0
1.9
5.7
7.6
3.7
3.3
0.7
2.2
0.8
19.1
Total
349
28
48.7
32.3
77.9
1.3
4.6
5.9
2.7
2.6
0.9
1.6
0.7
14.5