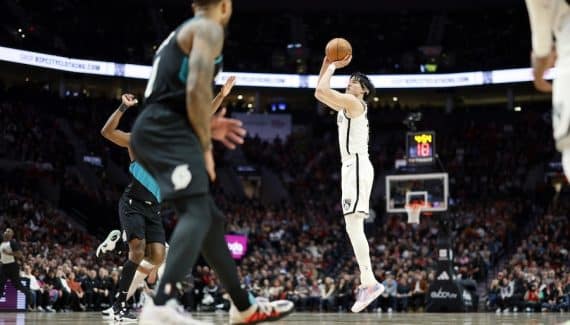 Tonight, the Nets had no trouble carving up the Raptors by converting 17 3-pointers. The New Yorkers, however, evolved without their best shooter, Yuta Watanabe. Prior to the game, Jacque Vaughn informed that he was suffering from a hamstring contracture. Already absent in Philadelphia, he will thus miss the last trip, of a crazy series for the Nets (10 out of 12 outside!), in Indiana on Friday.
" We really miss him because he gives us the opportunity to play big and small. So we had to play Royce (O'Neale) a little longer he ended up playing 38, 39, 40 minutes (note: 39 minutes in Philly). So it puts pressure on the whole group », judged Steve Nash's replacement.
The Japanese has indeed established himself as one of the precious elements of his rotation. Serious in defense, active on the rebound, able to create for others with his dribble, the left-hander, on the basis of his best career season, shines above all with his external address: 57% success rate (24/42) from the start of the season ! Which makes him, with a lower volume of shots than other gunners, the best shooter in the league by far.
Saluted by Nick Nurse
" He's the best shooter in the world right now ", categorically qualifies Kyrie Irving by referring to the statistics. " We just want him to stay confident and seize the opportunities that come his way. It makes the game much easier. We have guys are ready to physically sacrifice night after night, we want to reward them, especially when they shoot ", continues the leader.
It should be noted that his teammate averaged 14.5 points (62.5% on shots including 60% from afar), 4 rebounds and 2 assists in the four games before his injury. His most accomplished release? In Portland, with 20 points and 7 rebounds with five decisive award-winning baskets, in the corners his preferential zonesin the second half.
What generate the congratulations of his former coach, Nick Nurse, with whom he played the previous two seasons in Toronto. " He is shooting very well this year. […] He gave us much of what he brings today. He is a useful player, who plays hard, runs, cuts and shoots. A good complementary element in an attack because he understands 'spacing' very well. He's never shot as well with us as he's done with the Nets this year, and he's never been very healthy with us. »
The Nets can be rubbing their hands at getting him on the cheap and thinking their top shooter isn't called Seth Curry or Joe Harris. That is to say the reserve!
Yuta Watanabe
Percentage
Bounces
Season
Crew
GM
Minimum
Shots
3 points
LF
Off
Def
Early
pd
party
Int
bp
CT
Points
2018-19
SAME
15
12
29.4
12.5
70.0
0.3
1.8
2.1
0.5
0.7
0.3
0.4
0.1
2.6
2019-20
SAME
18
6
44.1
37.5
37.5
0.4
0.7
1.1
0.3
0.5
0.3
0.1
0.1
2.0
2020-21
TOR
50
15
43.9
40.0
82.8
0.7
2.5
3.2
0.8
1.1
0.5
0.4
0.4
4.4
2021-22
TOR
38
12
40.6
34.2
60.0
0.5
2.0
2.4
0.6
1.0
0.3
0.5
0.4
4.3
2022-23
BRK
14
18
60.9
57.1
66.7
0.7
2.2
2.9
0.9
1.1
0.2
0.4
0.5
8.1
Total
135
13
43.9
39.1
66.7
0.6
2.0
2.5
0.6
1.0
0.4
0.4
0.3
4.2