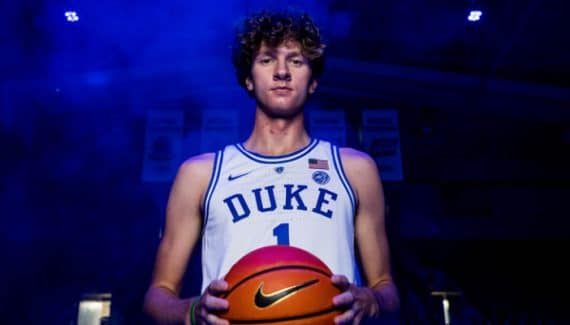 "Rich get rich ", can we often hear across the Atlantic in these situations, when the better off systematically continue to gain in resources.
On the NCAA circuit, it is applicable with Duke: the seasons go by, and the Blue Devils continue to appear with consistency among the most established programs in the field of university recruitment.
In recent months, Duke, led by his new coach Jon Scheyer, the successor to Mike Kryzewski on the bench, has wreaked havoc in the high school class of 2023. Last spring, even before the summer and therefore the Peach Jam, the Durham program had already secured the commitment of five recruits, all ranked in the Top 30 of the best high school students for 2023.
And in this back-to-school period on American high schools and campuses, the crazy series resumes: strong winger TJ Power, ranked 22nd in the class of 2023, has indeed signed up with Duke and becomes the sixth recruit Jon Scheyer's high school student for the 2023/24 season.
Originally from Massachusetts, TJ Power had received offers from, among others, Iowa, North Carolina, Georgetown, Kansas and Ohio State. His recruitment had notably accelerated this summer, after the Peach Jam tournament in July, during which he averaged 15 points, 9 rebounds and 4.9 assists in seven games.
" I quickly realized that the opportunity presented itself was difficult to ignore. I wanted to choose my university based on my relationship with the coaches, and when I visited the campus, I was satisfied. Coach Scheyer has a vision, I share it and I perceive it" thus declared the new reinforcement of the Blue Devils.
Post 3/4 who approaches 2m05, TJ Power is above all a tall creator, comfortable with the ball in his hands and capable of a few well-thought passes. His mid-range shot is also already present in his arsenal. He lacks reactivity in defense, but compensates with good intelligence on this side of the field.
" With all the talent we will have on the pitch, I think my creative qualities will be highlighted. I could also score in different ways. Duke fans hold in me a balanced, well-rounded player capable of producing at high volume on the court. he concluded.