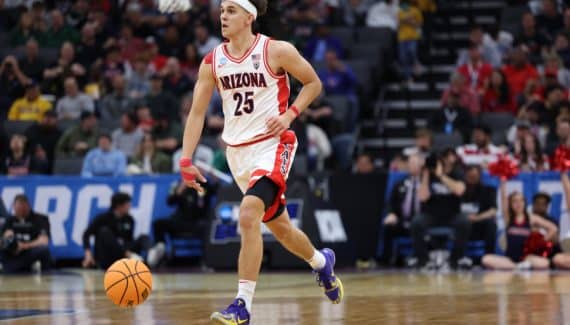 This is substantial information on the NCAA planet, delivered by Jonathan Givony from ESPN and which comes to punctuate the news of the university championship whose attention is currently fully turned towards the "March Madness": Kerr Kriisa quits Arizonawhere he had played for three seasons (9.4 points and 4.7 assists).
Eliminated to everyone's surprise in the first round of "March Madness" against Princeton last week, the Wildcats therefore begin their offseason by losing their titular leader over the last two seasons, author in recent months of his best personal exercise. with 9.9 points and 5.1 assists per game.
Trained in particular for two years within the reserve team of Zalgiris Kaunas before joining the United States at the start of the 2020 school year, the Estonian, who played at the forefront of the attack of a team with an international flavor in Tucson ( a Serb, a Frenchman, a Malian, a Swede, two Lithuanians and two Estonians), is a good manager on pick-and-roll and a solid outside shooter, although his raw numbers in this exercise are not particularly impressive in absolute terms (35.2% on 6.6 shots in three seasons).
On the other hand, his attacking game clearly lacks variation, particularly inside the arc where his relatively modest physique prevents him from being an assertive finisher at the circle. And that heavily affects his overall efficiency from an offensive standpoint (only 36% on career shots)…
Still, he remains an experienced point guard on the college circuit and a stabilizing presence at the helm of an offense. What to be courted in the four corners of the country in the coming weeks.