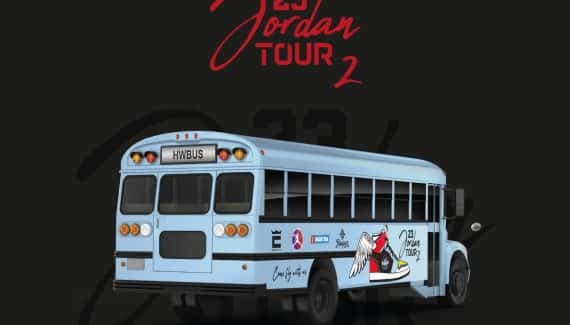 Last March, around forty Michael Jordan fans took advantage of the reopening of borders to Europeans to participate in the first Jordan Tour, an unprecedented 10-day stay to walk in the footsteps of Michael Jordan. An unforgettable stay for all who participated.
Faced with strong demand (already 20 registered!), Hardwork Trip and Basket USA have decided to offer a second Jordan Tour, and to celebrate the most famous number 23 in 2023, the program will be even more exceptional with three NBA matches, three university visits, guided tours in mythical places, and of course exceptional "fan experiences" with the possibility of playing on an NBA court. This year, we were even on the field when the players entered.
In 2023, Hardwork Trip offers you a stay that will begin in Washington to visit the Capitol, the White House, the Georgetown campus with a Wizards game against the Nuggets of MVP Nikola Jokic. Then, head to the North Carolina and then Duke campuses, via Charlotte or even Laney High School in Wilmington. It will be, like last season in full March Madness, with the possibility of seeing the Mavericks of Luka Doncic and the Lakers of LeBron James!
Better, we even propose another stay in Chicago with two matches, including the one against the Lakers and another of the Bulls against the Grizzlies of Ja Morant.
JORDAN TOUR 2
When is it? From March 21 to March 31, 2023
How much does it cost ? 3,850 euros (transport, accommodation, tickets, and fan experience included)
How many matches? Three NBA matches: Wizards – Nuggets; Hornets-Mavericks and Bulls-Lakers.
Are places limited ? 45 seats only, because we will travel with a private bus with driver + a domestic flight
Any surprises? Full ! With a hoodie and a collector's T-shirt to immortalize the stay, meetings, visits…
CHICAGO TRIP
When is it? From March 28 to April 4, 2023
How much does it cost ? 1,790 euros (transport, accommodation, tickets, and fan experience included)
How many NBA games? Two: Bulls-Lakers and Bulls-Grizzlies
Are places limited ? 30 places only.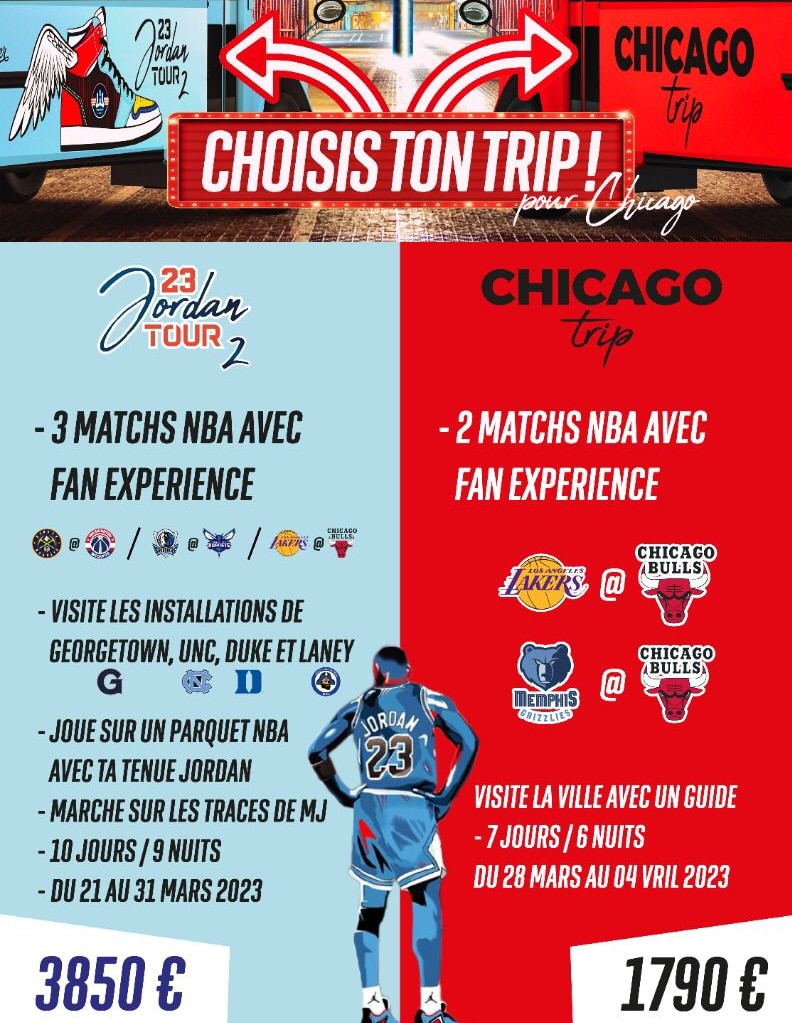 DETAILS AND REGISTRATION FOR THE STAY
More information about the trip? Want to register directly? Either way, this quiz is for you!
Following this questionnaire, you will receive more information about the trip and you will have the opportunity to officially register
This form does not represent any contractual commitment, it allows you to have priority over the stay.