Basketball News
NBA: results of the games of December 23, 2022, including the Knicks – Wizards duel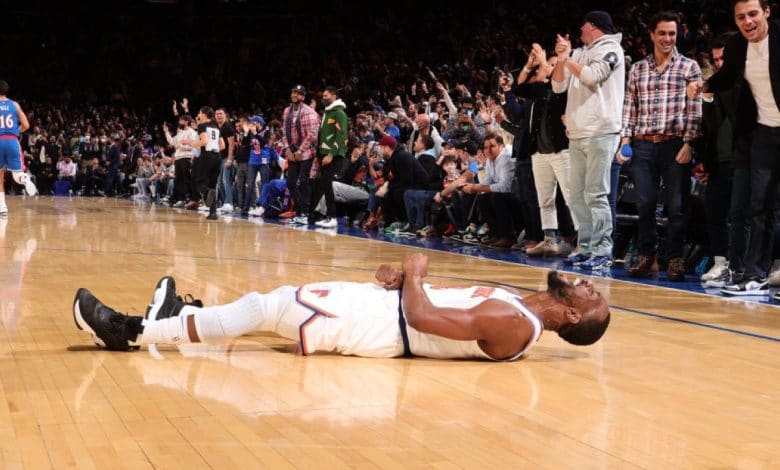 NEW YORK – Despite Kemba Walker's 44 points, the New York Knicks were defeated 124-117 by the Washington Wizards on Thursday.
The Wizards have ignored the absence of Bradley Beal, sidelined in connection with the NBA protocol regarding COVID-19.
Beal leads the club with 23.3 points per game on average this season.
Last Saturday, he amassed 37 points and the Wizards surprised the Jazz in Utah, 109-103.
On Thursday, Spencer Dinwiddie took over with 21 points, one more than Corey Kispert.
Canadian RJ Barrett was off duty with the Knicks.
He is still fit to return to the game after six games on the sidelines, including five in connection with the protocol.
In his last three games, the Ontarian has registered 32, 19 and 19 points.
Drafted third in 2019, Barrett has averaged 15.1 points per game this season.
"Cardiac Kemba" had seven three-pointers en route to his 44 points. He also had nine rebounds and eight assists.
The Knicks will host the Atlanta Hawks on Christmas Day at noon.
The Heat are fighting against the worst team in the league
The Miami Heat battled against one of the worst teams in the NBA before winning for the sixth time in eight games.
Tyler Herro scored 29 points and Max Strus finished with 26 points. The Heat beat the resource-strapped Pistons, 115-112.
The game was tied at 112 until Strus landed his fifth 3-point shot of the game, giving Miami the lead with 40 seconds remaining.
Kyle Lowry finished with 21 points and Gabe Vincent with 15 points for the Heat.
The Pistons learned hours before the game that four players had entered into league health and safety protocols. Rookie Cade Cunningham, the team's second-leading scorer, was placed in protocols on Wednesday.
Trey Lyles scored 28 points, a career high, for the Pistons. Saddiq Bey scored 23 points.
Elsewhere in the NBA
Pelicans 110 – Magic 104
NO: Brandon Ingram had 12 of 23 shots for a total of 31 points.
ENT: Cole Anthony and Garry Harris both scored 22 points.
Rockets 106 – Pacers 118
HOU: 20 points in 25 minutes for rookie Jalen Green
IND: In the absence of Domantas Sabonis and Malcolm Brogdon, Myles Turner was dominant with 32 points and 10 rebounds.
Hawks 98 – 76ers 96
ATL: Cam Reddish was his team's best with 18 points before leaving the game with injury.
PHI: Double 21 points and 10 rebounds for Joel Embiid.
Bucks 102 – Mavericks 95
MIL: 26 points for Khris Middleton and 24 points for Jrue Holiday in the victory.
DAL: In the absence of their best players, it was Jalen Brunson who led the way for the Mavs with 19 points and eight assists.
Timberwolves 116 – Jazz 128
MIN: In the absence of Karl-Anthony Towns, Malik Beasley scored 33 points.
UTA: Solid double from Rudy Gobert with 20 points and 17 rebounds. 28 points for Donovan Mitchell
Thunder 101 – Suns 113
OKC: Luguentz Dort made just four of his 16 shots for 10 points.
PHO: 30 points, seven rebounds and seven assists for Devin Booker.
Hornets 115 – Nuggets 107
CHA: Kelly Oubre Jr. led hers with 23 points.
DEN: Monstrous double with 29 points and 21 rebounds for Nikola Jokic.
Grizzlies 102 – Warriors 109
MEM: 21 points and six assists for Ja Morant.
GS: Eight successful three-pointers for Stephen Curry en route to a 44-point performance.
Spurs 138 – Lakers 110
SA: Keita Bates-Diop surprised everyone with a performance of 30 points in the victory.
LAL: LeBron James' 36 points did not prevent the Lakers from losing.
Nets – Trail Blazers (remitted)