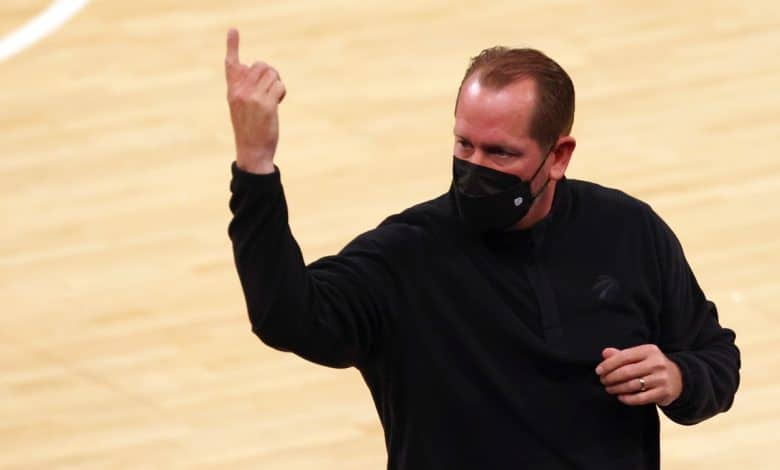 NBA officials have postponed the game the Toronto Raptors were scheduled to play against the Chicago Bulls on Wednesday night because the Toronto team will not be able to count on eight players available, the minimum required.
A spokesperson for the Raptors confirmed on Wednesday that forward OG Anunoby has become the eighth player on the team to be enrolled in the NBA's COVID-19 protocols. Anunoby had just returned to the game after a hip injury that kept him sidelined for 13 games.
The names of Fred VanVleet, Malachi Flynn, Scottie Barnes and Precious Achiuwa were added to the protocols on Tuesday, joining those of Gary Trent Jr., Pascal Siakam and Dalano Banton.
Players whose names are in the protocols have not necessarily tested positive for COVID-19.
In addition, center Khem Birch cannot play due to a swollen knee, Justin Champagnie is unavailable due to an illness unrelated to COVID-19 and David Johnson is on the sidelines due to 'a calf injury.
Despite a receding hairline, the team traveled to Chicago on Tuesday. The Raptors have tried to make up for those absences by signing four-player G-League deals under the NBA's "savegame".
This is the third game of the Raptors that is postponed, after that scheduled last Monday in Toronto against the Orlando Magic and another scheduled to take place at Scotiabank Arena on December 13 against the Bulls.
Their next game is scheduled for December 26, in Cleveland.
Earlier in the day, the NBA postponed the meeting that the Brooklyn Nets were to play in Portland, against the Trail Blazers.
Like the Raptors, the Nets will not have the required minimum of eight players. It is the third game in a row for the Nets that is postponed.
As a result, the Nets' next game will not take place until Saturday, as part of the five-game schedule on Christmas Day.
According to information circulating, the Nets have 10 players in the NBA's COVID-19 protocols, including Kevin Durant, James Harden and Kyrie Irving, even though the latter has yet to play a single game this season.
Several big names are missing in connection with the protocol, for the matches of Wednesday and Thursday.
Among these: Giannis Antetokounmpo and Bobby Portis (Bucks), Luka Doncic (Mavericks), Jarrett Allen and Evan Mobley (Cavaliers), Trae Young and Clint Capela (Hawks), RJ Barrett (Knicks), Reggie Jackson (Clippers), De'Aaron Fox (Kings), Andrew Wiggins (Warriors) and this year's first draft pick, Cade Cunningham (Pistons).