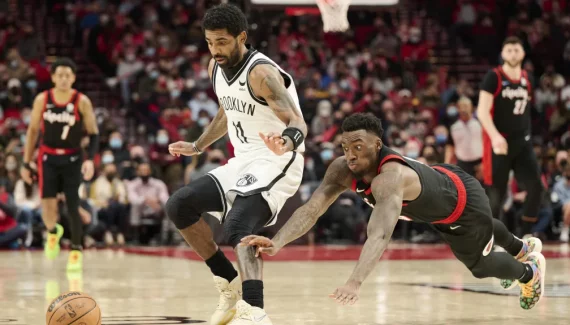 The action takes place during the "money-time" of the meeting between Portland and Brooklyn. Kyrie Irving, who was playing his second game of the season, runs towards the ball which rolls towards the sideline. But behind him then arrives at full speed Nassir Little, who tries everything to keep the ball in the playing area and throws himself on the ground.
He does not succeed, and in passing slightly mows the leader of the Nets, who falls to the ground, before holding his left ankle.
At the microphone of the journalists, after the meeting, Kyrie Irving shared his feelings on the action.
" Everything is fine. It's part of his somewhat unwarranted actions, you know? I tried to push myself, but found it was unnecessary for him to dive when he was so far off the ball. I spoke to the referees about it, to tell them that it was necessary to ensure that the players were protected on the field. I understand Nassir fighting for the ball, but man, that's just a bad move. It's not basketball action, I could have broken my ankle, or worse. There is no place for these gestures in our league […] But it's not against him (Little, editor's note). It just could have been avoided. I try to pull away and he throws himself between my legs. But it's okay, it's okay. Let's move on to something else."
"You don't know anything about it if you think it's a bad move"
Subsequently, it was Nassir Little who spoke on the subject, through his Twitter account. And the former North Carolina player was not so happy with the "accusations" of the former Duke. " I will never hurt anyone on purpose, I have huge respect for Kyrie! You know nothing about it if you think it's a bad move, and I'll do it again. I don't really care what you think."
If his status regarding tonight's game against Chicago was "uncertain", Kyrie Irving wanted to be reassuring: " I will be available for Chicago. "While his coach, Steve Nash, preferred for his part rather to kick in touch:" We'll see. He's fine, he's finished the game. His ankle turned well. But I don't have enough information, I have to review the images."
Shots
Rebounds
Players
MJ
Min
Shots
3pts
LF
Off
Def
Early
Pd
Bp
Int
Ct
Fte
Pts
Kevin Durant
34
37.4
51.8
36.2
89.2
0.6
7.1
7.7
5.8
3.1
0.7
1.0
1.9
29.8
James harden
34
36.9
41.7
33.1
86.9
0.9
7.1
8.1
9.7
4.8
1.3
0.7
2.5
22.4
Kyrie Irving
2
35.8
47.4
30.0
100.0
0.5
5.0
5.5
4.0
3.0
2.0
1.0
2.5
22.0
Lamarcus Aldridge
29
22.9
56.5
34.3
84.6
1.5
4.1
5.6
0.8
0.9
0.4
1.1
1.7
13.3
Patty Mills
39
31.0
42.8
41.2
89.7
0.3
1.8
2.1
2.6
1.1
0.6
0.3
1.4
13.0
Joe Harris
14
29.9
45.2
46.6
83.3
0.4
3.6
4.0
1.0
1.1
0.5
0.1
2.2
11.3
Nicholas Claxton
20
22.1
65.6
0.0
61.5
1.9
3.5
5.5
0.9
0.8
0.6
1.1
2.5
9.2
cam thomas
28
16.4
41.5
24.7
81.5
0.2
2.2
2.4
1.2
0.7
0.5
0.1
0.6
7.0
Bruce Brown, Jr.
30
22.5
48.9
33.3
75.0
1.3
3.2
4.5
1.3
0.7
1.2
0.5
2.7
6.9
Kessler Edwards
8
20.2
42.3
41.7
0.0
1.4
3.2
4.6
1.1
1.1
0.6
0.6
1.1
6.8
David Duke
10
21.4
35.8
15.0
80.0
2.3
2.6
4.9
1.1
0.6
0.7
0.5
2.5
6.3
Blake Griffin
30
19.0
36.0
21.4
72.1
1.1
3.3
4.5
2.0
0.5
0.5
0.4
2.1
5.9
Deandre' Bembry
35
19.8
58.9
46.2
57.7
0.7
2.5
3.2
1.2
0.7
1.0
0.5
2.1
5.9
James Johnson
27
18.0
48.3
25.9
35.3
0.9
2.7
3.6
1.7
0.6
0.4
0.4
2.0
4.6
Day'ron Sharpe
14
8.1
62.8
33.3
52.9
1.9
1.6
3.5
0.1
0.9
0.2
0.4
1.4
4.6
Paul Millsap
23
10.9
35.4
23.1
70.6
1.1
2.3
3.4
1.0
0.4
0.2
0.3
2.0
3.2
Langston Galloway
4
14.6
38.5
25.0
0.0
0.2
1.8
2.0
1.2
1.2
0.0
0.0
1.2
3.0
Jevon Carter
31
11.6
28.3
29.9
75.0
0.2
1.3
1.5
1.0
0.5
0.4
0.3
1.0
2.6
James Ennis
2
6.8
28.6
50.0
0.0
1.0
1.5
2.5
0.0
0.0
0.5
0.5
0.0
2.5
Shaquille Harrison
2
11.3
33.3
0.0
0.0
0.5
1.5
2.0
1.5
1.0
0.5
0.5
1.5
2.0
Wenyen Gabriel
1
1.3
0.0
0.0
0.0
0.0
1.0
1.0
0.0
0.0
0.0
0.0
0.0
0.0