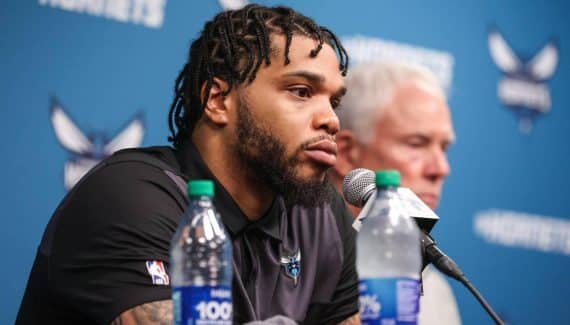 Miles Bridges came back through the back door. The Hornets winger thus held his first press conference since his official reinstatement in the workforce of Charlotte, after a one-year sidelining, the time that his case for domestic violence is judged.
Sanctioned by the NBA with a 30-game suspension, but 10 effectives, without salary to be served when the player resumes, the player finally signed a "qualifying offer" of 7.9 million dollars for the 2023/24 season. While he risked up to 12 years in prison, he is soon back on the pitch, ready to seize this new opportunity.
"We had to make a decision. Is this sincere remorse? Has he sincerely understood the meaning of his responsibility? It's not something easy to judge. We took all of those factors into consideration and gave it a second chance.", explained its GM, Mitch Kupchakpresent at his side. "It is clear that this is a divisive subject. Not everyone necessarily agrees. It is a difficult situation to live with (…). He understands that even if his teammates are happy with his return, he must regain the trust of others.
A precious second chance
As one could imagine, Miles Bridges for his part insisted on his desire to redeem himself while apologizing for "Pain and Embarrassment" that he caused. He especially insisted on the chance he had to be able to play again in the most prestigious basketball league in the world.
"I used this year to go to therapy as a priority, to become the best person I could be, someone that my family and everyone can be proud of. I want to thank the Hornets and the NBA for giving me a second chance. A lot of people don't get a second chance, and I want to use that to prove to everyone that I'm the same kid you drafted five years ago. I'm just happy to be back and I can't wait for the season to start"he said with a serious tone.
Miles Bridges now hopes to be able to focus on the rest of his basketball career.
He also explained that he had done what was necessary to progress in basketball. He also said he wanted to stay with the Hornets at the end of the season. He will then be an unprotected "free agent", but the Hornets will have his "Bird rights" in order to offer him a better (and longer) contract than the competition in order to keep him.
"We will have to wait and see how it goes," replied Mitch Kupchak. "From a basketball standpoint, putting aside the seriousness of what happened, we're thrilled to have him back. He had his best year two years ago. Whatever we have to manage in a year, we will do it in a year (…). There is a lot of confidence to regain. Both on and off the field. From a purely basketball perspective, he's only 25 and should be in his prime. But he also missed a full year of competition.
As a reminder, Miles Bridges received a three-year suspended prison sentence. During this period, he will have to follow 52 weeks of counseling on domestic violence and 52 weeks of parenting courses, but also perform 100 hours of community service and undergo weekly drug tests. He also cannot possess firearms, ammunition or dangerous weapons.
Finally, for ten years, he must not approach within 100 meters of the mother of his children, nor come into contact with her. Miles Bridges and his former girlfriend retain joint custody of their two children, and any visitation or transmission of children must be through a neutral third party.
Miles Bridges
Percentage
Bounces
Season
Crew
GM
Minimum
Shots
3 points
LF
Off
Def
Early
pd
party
Int
bp
CT
Points
2018-19
CHA
80
21
46.4
32.5
75.3
0.8
3.2
4.0
1.2
1.4
0.7
0.6
0.6
7.5
2019-20
CHA
65
31
42.4
33.0
80.9
1.4
4.2
5.6
1.8
2.0
0.6
1.5
0.7
13.0
2020-21
CHA
66
29
50.3
40.0
86.7
1.2
4.8
6.0
2.2
2.2
0.7
1.6
0.8
12.7
2021-22
CHA
80
36
49.1
33.1
80.2
1.1
5.9
7.0
3.8
2.4
0.9
1.9
0.8
20.2
Total
291
29
47.3
34.6
80.9
1.1
4.5
5.6
2.3
2.0
0.7
1.4
0.7
13.4
How to read the stats? MJ = matches played; Min = Minutes; Shots = Shots made / Shots attempted; 3pts = 3-points / 3-points attempted; LF = free throws made / free throws attempted; Off = offensive rebound; Def= defensive rebound; Tot = Total bounces; Pd = assists; Fte: Personal fouls; Int = Intercepts; Bp = Lost bullets; Ct: Counters; Points = Points.