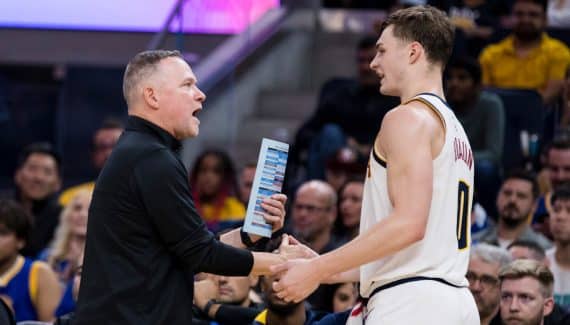 Christian Braun is not afraid of anything. We had seen it during his time in Kansas, where he won the NCAA title, and his early career in the NBA confirms it. After six games, he had to defend against LeBron James, Stephen Curry, Damian Lillard, Andrew Wiggins, Jordan Poole or even Jerami Grant…
" That's what I wanted ", he explains to the Denver Post. "That's why we come to this league. This is to be tested at the highest level. That's what I've wanted all my life, to go up against these guys every night. That's why I signed. And I think I'm going to get better and better doing it every night. »
Almost not used during the opening match, the rookie however very quickly integrated Mike Malone's rotation, to the point of sometimes being the player most used by the coach…
The Rockies coach loves these players who never rest in defense.
"We can talk about a lot of things about what makes a good defender"explains the technician. "I think the main thing is the will, the desire – and (Braun) wants. (Wednesday night), he "switched" to LeBron James. He's a rookie, he was in college last year, he was hanging out at frat parties, and now he's not scared. That's the best part: he doesn't look out of place. And you can't say that about a lot of rookies. I'm so proud of this kid. He doesn't blink. He doesn't get angry. He's just, you know, cold-handed Luke, calm, cool, tough, aggressive. He attacks and ends up in the circle. He's a fun kid to watch. »
With his defensive will and his ability to punish from a distance or on cuts, Christian Braun seems made to play alongside Nikola Jokic. Mike Malone is in any case under the spell.
"I know he's going to make mistakes because he's a rookie, but I also know he's going to play hard"concludes the coach. "It will never come from a lack of aggression or a lack of toughness, or a lack of confidence. We can always talk about player development programs, what you do on the training ground before and after, but the best player development program is to play, make mistakes and have a chance to play real minutes. »
Christian Brown
Percentage
Bounces
Season
Crew
GM
Minimum
Shots
3 points
LF
Off
Def
Early
pd
party
Int
bp
CT
Points
2022-23
DEN
6
19
52.0
40.0
50.0
1.2
2.2
3.3
1.0
1.0
0.7
0.7
0.3
5.3
Total
6
19
52.0
40.0
50.0
1.2
2.2
3.3
1.0
1.0
0.7
0.7
0.3
5.3