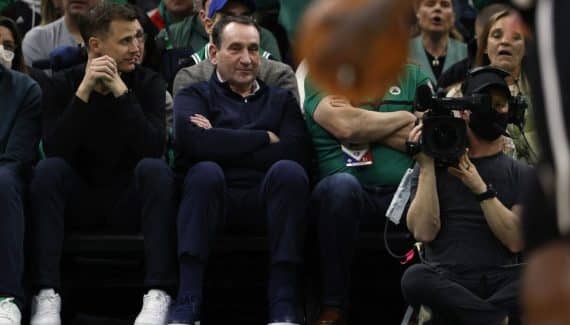 We thought he was quietly retired, after 42 seasons at Duke, but Mike Krzyzewski resumes service, for the NBA this time. This is indeed what the league announced on Wednesday, in a press release explaining that the legendary Duke coach had just been named "special adviser to NBA basketball operations".
A complex title, which the NBA defines in this press release as a " position of advisor to the league, its leaders and all its major players, on a wide range of subjects related to the game ", adding that he will participate in his first meeting next week in Chicago with all the GMs of the league, certainly during the Draft Combine.
"Coach K." has never coached in the NBA
" This is an opportunity to strengthen my historical connection with the NBA, participating in discussions on how to further improve the quality of the league. "Reacted" Coach K ". " Even after my retirement from coaching, my passion for this sport has never been greater. This new role allows me to stay close to basketball, at the highest level. »
Close to the players through his experience at the head of Team USA (2005 – 2016), Mike Krzyzewski had however never worked directly with the NBA. It is now done, officially. A studious retirement thus begins, for the legend of Duke.