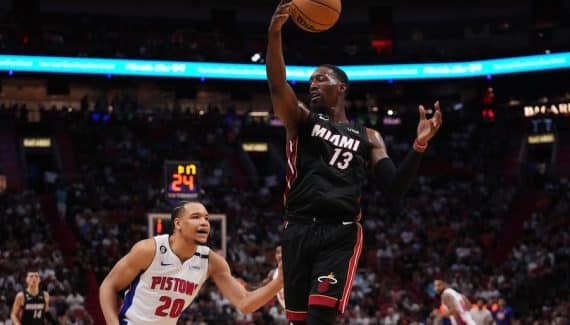 " Our record is probably disappointing to people on the outside, but we have the feeling that things are moving in a much better direction. So spoke Erik Spoelstra a few days ago about a Heat that has still not turned to the positive this season.
His feeling is no longer quite the same today. Monday night, his team missed a good opportunity to balance its record on the floor of the Grizzlies. The latter played "back-to-back" and were especially deprived of several holders (Ja Morant, Desmond Bane and Jaren Jackson Jr.). But the Floridians, despite an almost complete team, lacked the energy to win.
They did worse last night, at home, against the modest Pistons, penultimate in their conference. This time deprived of Jimmy Butler, the Heat exploded in the second half by conceding 69 points while Cade Cunningham was not playing opposite. They especially conceded a terrible 38-23 in the last quarter, a period which, as Tyler Herro notes after the match, has caused many problems for Miami since the start of the season. This is how the team scores the fewest points.
" We just didn't play well. We were pretty stable defensively for three quarters, then we opened the floodgates in the fourth », regrets Erik Spoelstra before stopping on the best player opposite: " Bojan Bogdanovic (note: 28 of his 31 points in the second half) landed big shots, even being challenged. But again, our defense in the fourth quarter was definitely not up to our standards. »
"The basketball gods must be mad at us"
On arrival, a very heavy defeat of 20 points which hurts morale. " The basketball gods must be mad at us or something… "Try Bam Adebayo, one of the few Heat players with Tyler Herro to have floated in this game (21 points and 15 rebounds). In an attempt to explain these counter-performances, the pivot points the finger " every five changes. It's hard for a lot of guys, going from starter to substitute, from substitute to starter… Playing 30 minutes or 5, they do the best they can. »
The Heat have changed their starting five eight times this season, but that's less than the Grizzlies or the Pistons, for example. And injuries, Miami has already experienced, especially last year. " Every year is different, you can't compare to last year. It's always early in the season. We know who we are, we gotta hold on to our strengths ", Displays Tyler Herro, best scorer this night with 34 units.
The rear adds: I have the feeling that we started to feel too beautiful. This feeling is no doubt linked to the recent success on the court of the best team in the league, the Celtics. But in the next two games, the Floridians were unable to reproduce the same intensity and the same level of effort.
" It shows how fast everything is moving in this league."recalls Erik Spoelstra. "Only five days ago, we thought things were going in the right direction, then we played two games that are not up to our standards. Nobody feels satisfied after the last 48 hours. But again, only five days ago, we were coming off a very good away win. "Which seems very far away today…
Shots
Bounces
Players
GM
Minimum
Shots
3 points
LF
Off
Def
Early
pd
bp
Int
CT
party
Points
Jimmy Butler
15
35.5
49.5
35.3
86.6
2.2
4.9
7.1
6.0
2.0
1.7
0.3
1.6
21.0
Bam Adebayo
22
35.1
52.5
11.1
87.3
2.3
6.6
9.0
3.3
3.0
1.0
0.8
3.3
20.7
Tyler Herro
16
33.6
43.8
35.3
88.9
0.7
6.1
6.8
4.1
2.6
0.8
0.5
1.7
19.1
Max Strus
22
33.0
42.2
35.5
85.7
0.5
3.0
3.5
1.7
1.2
0.9
0.3
2.3
14.7
Kyle Lowry
24
36.4
40.2
35.2
85.4
0.8
4.1
4.9
6.0
2.6
1.0
0.6
2.9
14.6
Caleb Martin
23
32.2
48.8
41.5
76.7
1.7
3.1
4.8
2.0
1.1
1.2
0.4
1.8
11.4
Gabe Vincent
19
24.8
39.0
29.7
84.0
0.3
1.8
2.1
2.9
1.4
0.8
0.1
2.6
8.8
Orlando Robinson
2
20.0
46.2
0.0
66.7
1.0
3.5
4.5
0.5
0.5
1.0
0.5
2.5
7.0
Dewayne Dedmon
20
12.2
54.2
34.6
75.8
1.0
2.7
3.6
0.6
0.7
0.2
0.4
2.0
6.9
Nikola Jovic
10
16.0
39.6
20.0
94.7
0.7
1.9
2.6
1.0
0.8
0.6
0.1
1.2
6.5
Duncan Robinson
17
17.3
36.0
31.5
90.0
0.2
1.8
2.1
1.2
0.6
0.2
0.0
1.9
6.1
Jamal Cain
8
11.6
53.6
16.7
66.7
0.9
1.5
2.4
0.6
0.3
0.6
0.0
1.3
4.4
Haywood Highsmith
15
18.8
33.8
30.6
40.0
1.0
3.3
4.3
0.6
0.7
0.8
0.4
0.7
4.1
Dru Smith
3
14.1
44.4
33.3
0.0
0.0
2.3
2.3
0.7
0.3
1.0
1.0
2.0
3.0
Udonis Haslem
4
6.0
16.7
0.0
50.0
0.5
0.5
1.0
0.0
0.0
0.3
0.3
1.0
0.8