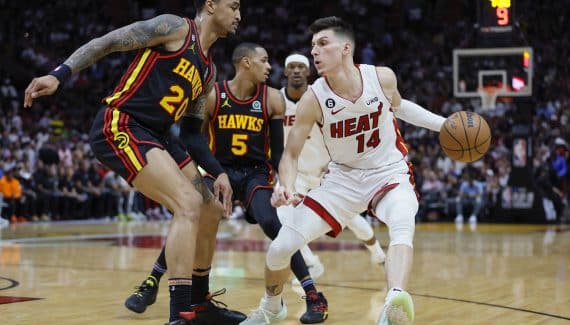 It's probably simplistic to sum it up like this, but there is clearly some truth: the Hawks did what it took to win this meeting, not the Heat. Yet at home and with experience of these matches at stake, Miami will miss its meeting, in large widths.
Dominated in intensity and physically, continuously behind in the score, the Floridians showed their bad face.
"We have to keep confidence, we know we are capable of winning," explains Jimmy Butler for ESPN. "You have to do things right, go to the rebound too. But if we miss shots and make mistakes, we can't win like that. They penetrated, scored at 3-pts, on free throws. So Friday night, we will have to do the exact opposite of what we did on Tuesday. It was a bad game. »
One number symbolizes the Heat's shortcomings better than the others: 63-39. It's the Hawks' rebound victory. Clint Capela and his teammates even went for 22 offensive rebounds…
"There were several sequences, maybe eight or ten, where we didn't take the rebound and it killed us"remarks Erik Spoelstra. "The rebounds were horrible," confirms Jimmy Butler, looking at the stat sheet. "We weren't there physically so they took all the rebounds and scored on second chances. The game was played there. »
The rebound is often a question of concentration, but above all of desire. Does this mean that the Heat players did not put the necessary ingredients to win? The coach does not think so, nor Tyler Herro.
"The ball was bouncing back at them, really, the whole game," comments the shooter. "But that's no excuse not to rebound. They really dominated us under the panels, there was no match. »
Expected rebound therefore (no pun intended) on Friday, against the winner between Toronto and Chicago, to hope to join the first round of the playoffs and face Milwaukee in the first round of the playoffs.
Shots
Bounces
Players
GM
Minimum
Shots
3 points
LF
Off
Def
Early
pd
bp
Int
CT
party
Points
Jimmy Butler
64
33.4
53.9
35.0
85.0
2.2
3.7
5.9
5.3
1.6
1.8
0.3
1.3
22.9
Bam Adebayo
75
34.6
54.0
8.3
80.6
2.5
6.7
9.2
3.2
2.5
1.2
0.8
2.8
20.4
Tyler Herro
67
34.9
43.9
37.8
93.4
0.4
5.0
5.4
4.2
2.4
0.8
0.2
1.5
20.1
Max Strus
80
28.4
41.0
35.0
87.6
0.6
2.6
3.2
2.1
0.9
0.5
0.2
2.1
11.5
Kyle Lowry
55
31.2
40.4
34.5
85.9
0.8
3.3
4.1
5.1
1.9
1.0
0.4
2.6
11.2
Victor Oladipo
42
26.3
39.7
33.0
74.7
0.4
2.7
3.0
3.5
2.1
1.4
0.3
2.4
10.7
Caleb Martin
71
29.3
46.4
35.6
80.5
1.2
3.6
4.8
1.6
1.1
1.0
0.4
2.0
9.6
Gabe Vincent
68
25.9
40.2
33.4
87.2
0.4
1.7
2.1
2.5
1.4
0.9
0.1
2.3
9.4
Kevin Love
21
19.9
38.8
29.7
85.7
0.8
4.9
5.7
1.9
1.1
0.4
0.2
1.5
7.7
Cody Zeller
15
14.4
62.7
0.0
68.6
1.7
2.6
4.3
0.7
0.9
0.2
0.3
2.2
6.5
Duncan Robinson
42
16.5
37.1
32.8
90.6
0.2
1.5
1.6
1.1
0.7
0.3
0.0
1.8
6.4
Dewayne Dedmon
30
11.7
49.6
29.7
72.7
0.9
2.7
3.6
0.5
0.6
0.2
0.5
2.0
5.7
Nikola Jovic
15
13.6
40.6
22.9
94.7
0.6
1.5
2.1
0.7
0.7
0.5
0.1
1.3
5.5
Jamal Cain
18
13.3
56.1
35.0
77.3
0.8
2.1
2.9
0.7
0.3
0.6
0.1
1.2
5.4
Omer Yurtseven
9
9.2
59.3
42.9
83.3
0.9
1.7
2.6
0.2
0.4
0.2
0.2
1.8
4.4
Haywood Highsmith
54
18.0
43.1
33.9
46.4
1.1
2.4
3.5
0.8
0.8
0.7
0.3
1.5
4.4
Udonis Haslem
7
10.1
34.5
33.3
80.0
0.6
1.0
1.6
0.0
0.1
0.1
0.3
1.6
3.9
Jamaree Bouyea
4
16.3
46.2
40.0
50.0
0.3
1.0
1.3
1.0
1.0
1.0
0.5
1.3
3.8
Orlando Robinson
31
13.7
52.8
0.0
71.0
1.5
2.5
4.1
0.8
0.5
0.4
0.4
1.7
3.7
Dru Smith
5
13.4
35.7
16.7
0.0
0.2
1.6
1.8
1.0
0.2
0.8
0.6
2.0
2.2