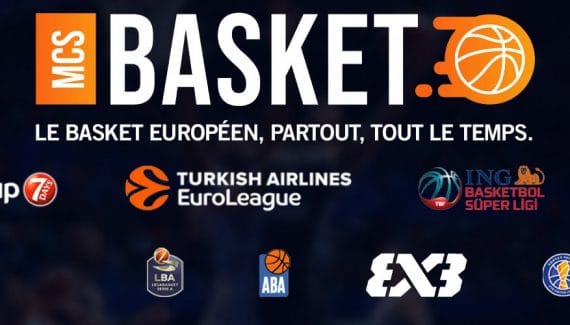 We have never seen so much basketball on television and on the Internet, and MCS Basketball offers the most abundant offer with more than 700 matches, per season, live and in French! For more than a month, subscribers have been able to follow the 3×3 World Tour, the cream of European championships (Spanish, Italian, Russian, Israeli, Adriatic, etc.), the EuroCup (with clubs from Boulogne-Levallois, Bourg -en-Bresse)…
But that's not all since the application also gives access to the best moments of the Euroleague (ASVEL, AS Monaco Basket…, the Top 10, summaries, talk shows… All in streaming, and accessible from its computer, tablet, smartphone or connected TV.
This week, more than 20 hours of live streaming with the Europ Cup posters…
February 2
6:30 p.m.: Patras – Bourg-en-Bresse
8:30 p.m.: Boulogne-Lavallois – Lokomotiv Kuban
… and European championships
February 5
5:00 p.m.: Round 19 Partizan – Borac (Adriatic League)
8:00 p.m.: Trento -Milan (Italy)
February 6
12:30 p.m.: Obradoiro – Barcelona (Spain)
6:30 p.m.: Real Madrid – Valencia
8:00 p.m.: Bilbao – Manresa
As a reminder, the offer is accessible directly but also on demand, 4.99 euros per month and 49 euros for the year. The "plus" is the price for licensees of 3.49 euros / month and 34 euros / year.
Do not miss, download the MCS Basketball app.

—
Article written in partnership with Multi Channel Sport Group, known as MCS Group. Led by Nicolas Rotkoff, it is a group of sports OTT platforms, with extreme sport, basketball and soon many other sports, distributed on all channels (mobiles, tablets, connected tv, smart TV ), with exclusive content.