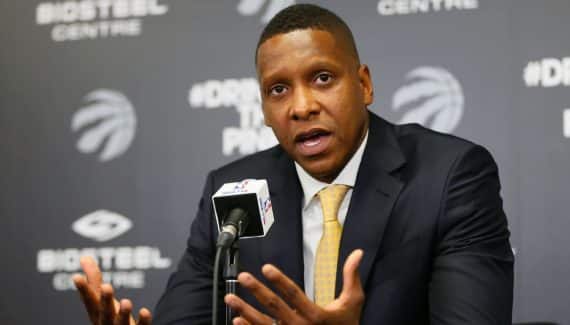 Present in Cairo for the "Basketball Without Borders" camp with Steve Kerr, Chauncey Billups, Willie Green, Chris Finch and Wes Unseld Jr, Masai Ujiri was interviewed about the Basketball Africa League.
Launched in 2020 with the support of the NBA and FIBA, the competition brings together 12 African teams, with the aim of developing basketball on the continent… but also to serve as a platform for the best young African basketball players to develop before join the Great League afterwards.
For now, this goal seems remote because only two players (Anas Mahmoud, Evans Ganapamo) have been invited by NBA franchises to participate in the Summer League after their performances in the BAL, and none have been able to join the workforce. for the regular season in stride. But for Masai Ujiri, there are no real surprises.
"At the moment we have a two-phase league before the final stages, so it will have to become a regular league, in a way, and I know that Amadou [Gallo Fall, le président du BAL] works there. We have the right ingredients" he assures ESPN. "The truth is that leagues take time to build. The NBA took a long time to build. The Premiership [championnat d'Angleterre de rugby à XV] took a long time to build. These things take a long time – the WNBA took a long time to build. It doesn't happen overnight. We're just talking about the third season [de la BAL]. "
Especially since the best African talents are spotted upstream and generally leave for the United States and Europe to prepare for the professional world.
It is therefore a general ecosystem that must be built, with the Basketball Africa League at its peak.
"Later on, the talent may pickle up a bit on the continent and the aim is to build things up so that players are interested in playing in the league here. Although, of course, the NBA is the biggest basketball league in the world and the best talent will be playing there at the moment. "