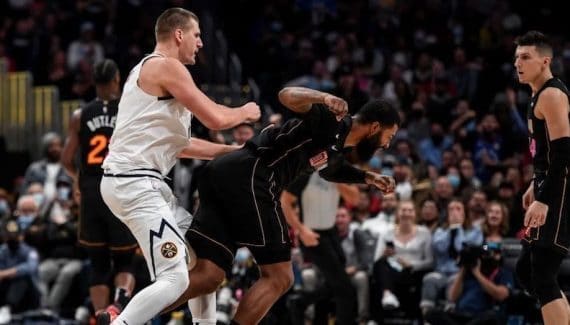 It has been almost three months since Markieff Morris has not seen the floors again. Seriously shaken after his shock with Nikola Jokic on a blood stroke from the Serb, the interior was hit in the neck and would have especially aggravated an injury previously contracted in January 2019.
While still playing at the Wizards, he had already been sidelined for six weeks to treat bouts of neck and upper back stiffness. DC medical staff had concluded that Markieff Morris suffered from transient cervical neurapraxia, a fairly rare injury affecting the cervical spine, namely the neck.
At this stage, after nearly three months of rehabilitation, the player has repeatedly expressed his desire to return to the field as soon as possible, as reported by the Miami Herald. If the situation seems to have improved, the decision does not seem to be so simple on the side of the franchise, which reflects on its responsibility vis-à-vis the health of its player.
For now, Markieff Morris, 32, has not been able to train with the rest of the team, on a "road trip" for a week and who will only be back home on weekends. next. In a similar situation, Victor Oladipo, back on his side from a quadriceps tendon operation, was on the trip. The case of the twin brother of Marcus Morris is therefore not completely settled.
These few more days before the Heat's return to Florida may allow the medical staff to form a more settled and definitive opinion, the goal being to try to avoid a situation similar to that of Chris Bosh which had led to a retirement from the former interior for health reasons.
Markieff Morris
Percentage
Bounces
Season
Team
GM
Minimum
Shots
3 points
LF
Off
Def
Early
pd
party
Int
bp
CT
Points
2011-12
PHX
63
20
39.9
34.7
71.7
1.1
3.3
4.4
1.0
2.8
0.7
1.1
0.7
7.4
2012-13
PHX
82
22
40.7
33.6
73.2
1.6
3.2
4.8
1.3
2.6
0.9
1.3
0.8
8.2
2013-14
PHX
81
27
48.6
31.5
79.2
1.7
4.3
6.0
1.8
2.9
0.8
1.8
0.6
13.8
2014-15
PHX
82
32
46.5
31.8
76.3
1.3
4.8
6.2
2.3
3.0
1.2
2.1
0.5
15.3
2015-16*
All Teams
64
26
42.5
30.3
73.5
1.1
4.4
5.5
1.9
2.9
0.9
2.1
0.5
12.0
2015-16*
PHX
37
25
39.7
28.9
71.7
1.2
4.1
5.2
2.4
2.8
0.9
2.4
0.5
11.6
2015-16*
WAS
27
26
46.7
31.6
76.4
1.1
4.7
5.9
1.4
3.0
0.9
1.7
0.6
12.4
2016-17
WAS
76
31
45.7
36.2
83.7
1.4
5.1
6.5
1.7
3.3
1.1
1.7
0.6
14.0
2017-18
WAS
73
27
48.0
36.7
82.0
1.0
4.6
5.6
2.0
3.0
0.8
1.7
0.5
11.5
2018-19 *
All Teams
58
22
42.1
33.5
77.2
1.1
3.5
4.6
1.4
3.0
0.6
0.9
0.4
9.4
2018-19 *
WAS
34
26
43.6
33.3
78.1
1.2
3.9
5.1
1.8
3.4
0.7
1.4
0.6
11.5
2018-19 *
OKAY
24
16
39.1
33.9
73.7
0.8
3.0
3.8
0.8
2.4
0.5
0.3
0.1
6.5
2019-20 *
All Teams
58
21
44.3
38.6
77.6
0.7
3.1
3.8
1.3
2.3
0.5
1.3
0.3
9.7
2019-20 *
TED
44
23
45.0
39.7
77.2
0.6
3.4
3.9
1.6
2.4
0.6
1.6
0.3
11.1
2019-20 *
ALL
14
14
40.6
33.3
83.3
1.1
2.1
3.2
0.6
2.1
0.4
0.4
0.4
5.3
2020-21
ALL
61
20
40.5
31.1
72.0
0.8
3.6
4.4
1.2
1.7
0.4
0.9
0.3
6.7
2021-22
MIA
10
19
45.7
36.4
100.0
1.3
1.5
2.8
1.4
2.2
0.3
1.2
0.1
7.7
Total
708
25
44.6
34.1
77.7
1.2
4.0
5.2
1.6
2.8
0.8
1.5
0.5
11.0