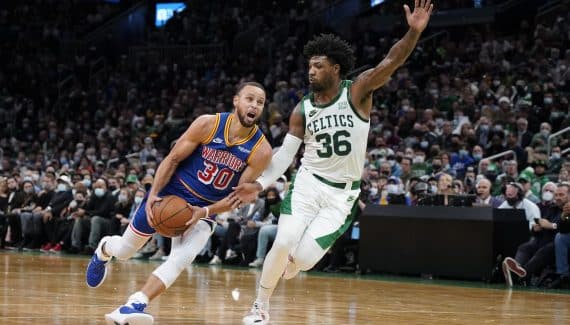 Last season, for very long weeks, the Celtics disappointed, chaining bad outings. Then, at the end of January, the click happened and in the last 35 matches of the regular season, Ime Udoka's players finished with 28 wins for only 7 losses.
A dynamic that will carry the franchise to the Finals… lost to the Warriors. For Marcus Smartthis effort to erase this failed first part of the season was paid for by the players in the final stretch.
"I think the lack of depth hurt us a lot"considers the defender of the year for The Athletic. "Jayson Tatum, Jaylen Brown, myself and the incumbents, we went up the rankings on our own. We had put ourselves in this situation and we fought to come back. "
The Celtics coach will then complain, especially during the Finals, that his replacements were not efficient enough. His rotations were then very short and inevitably, he hit the reserves of Tatum, Brown and Smart, the three having played respectively 41, 38 and 36 minutes on average in the playoffs, before facing the Warriors.
"Having been able to bring depth, with experienced players like Danilo Gallinari and Malcolm Brogdon, that will definitely help us"continues Marcus Smart, referring to the Boston transfer window.
Even if we know that the Italian could miss the whole season, because he suffered a cruciate ligament rupture with his national team at the end of August, and that for the moment he has not been replaced by Brad Stevens and the leaders of the 2022 finalists.
Marcus Smart
Percentage
Bounces
Season
Crew
GM
Minimum
Shots
3 points
LF
Off
Def
Early
pd
party
Int
bp
CT
Points
2014-15
BOS
67
27
36.7
33.5
64.6
0.9
2.4
3.3
3.1
2.6
1.5
1.3
0.3
7.8
2015-16
BOS
61
27
34.8
25.3
77.7
1.3
2.9
4.2
3.0
3.0
1.5
1.3
0.3
9.2
2016-17
BOS
79
30
35.9
28.3
81.2
1.0
2.9
3.9
4.6
2.4
1.6
2.0
0.4
10.6
2017-18
BOS
54
30
36.7
30.1
72.9
0.8
2.7
3.5
4.8
2.5
1.3
2.4
0.4
10.2
2018-19
BOS
80
28
42.2
36.4
80.6
0.7
2.2
2.9
4.0
2.5
1.8
1.5
0.4
8.9
2019-20
BOS
60
32
37.5
34.7
83.6
0.7
3.1
3.8
4.9
2.7
1.7
1.7
0.5
12.9
2020-21
BOS
48
33
39.8
33.0
79.0
0.8
2.7
3.5
5.7
2.6
1.5
2.0
0.5
13.1
2021-22
BOS
71
32
41.8
33.1
79.3
0.6
3.2
3.8
5.9
2.3
1.7
2.2
0.3
12.1
Total
520
30
38.2
32.1
78.0
0.8
2.8
3.6
4.5
2.6
1.6
1.8
0.4
10.5