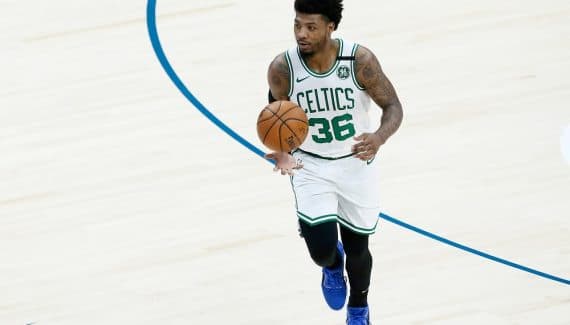 After years with the fragile but offensive Isaiah Thomas, Kyrie Irving and Kemba Walker, and despite the recruitment of Dennis Schroder, the Celtics gave the keys to the lead to Marcus Smart this summer.
A strong defender, who does not necessarily need the ball to exist, is perfect for playing alongside Jaylen Brown and Jayson Tatum, who like to have the ball in their hands. But as Bob Cousy recently explained, the Celtics probably lack a player capable of laying the game, a real conductor.
"When I came out of college, I was a leader"yet reminds Marcus Smart for The Athletic. "I was playing in this position. So it's funny to hear people say I'm not a playmaker."
Boston's collective difficulties obviously do not help Marcus Smart, even if his presence on the floor, with his defense and his energy, remains essential for the smooth running of Ime Udoka's troops.
"He's been good since the start of the season. I said it at the start of the exercise, when he is not there, it shows. We lose control of the rhythm, we force the isolations ", says the coach, who still deplored it against the Hawks. "We need someone to set things up, he is good at recognizing favorable situations or knowing who the in-form player is, who needs to shoot. He is very good in this role. Without forgetting his defense and his toughness. "
"Ime challenged me, like everyone else, because I wouldn't be the right person to lead the game"
Moreover, as he had only played under the orders of Brad Stevens since his arrival in the NBA and that transfer rumors have existed around him for a few weeks, Marcus Smart is not in the best conditions to shine. Nevertheless, he continues to think that he is made for this mission.
"Ime challenged me, like everyone else, because I wouldn't be the right person to lead the game, even if I'm here and doing my job", he explained after the victory against the Wizards. "Ime didn't say it directly, but I take it a bit like that since he didn't say the role was for me either. Everyone thinks so. It's one more engine to prove them all wrong. "
Even if Marcus Smart explains that he has not changed his game by moving to the position of starting playmaker. According to him, it is the gaze of others that has evolved.
"The leader, when everyone is dispersing, has to calm things down. I've been doing this since I've been in the league: doing the extra pass, finding the players when they're running, making sure they touch the ball. I've always done that, but people say I do it more. No, it's people who see him more because in previous years I was a substitute and I played 20 minutes. Now that I'm a leader, we don't see it anymore. This is how. "
Marcus Smart
Percentage
Bounces
Season
Team
GM
Minimum
Shots
3 points
LF
Off
Def
Early
pd
party
Int
bp
CT
Points
2014-15
BOS
67
27
36.7
33.5
64.6
0.9
2.4
3.3
3.1
2.6
1.5
1.3
0.3
7.8
2015-16
BOS
61
27
34.8
25.3
77.7
1.3
2.9
4.2
3.0
3.0
1.5
1.3
0.3
9.2
2016-17
BOS
79
30
35.9
28.3
81.2
1.0
2.9
3.9
4.6
2.4
1.6
2.0
0.4
10.6
2017-18
BOS
54
30
36.7
30.1
72.9
0.8
2.7
3.5
4.8
2.5
1.3
2.4
0.4
10.2
2018-19
BOS
80
28
42.2
36.4
80.6
0.7
2.2
2.9
4.0
2.5
1.8
1.5
0.4
8.9
2019-20
BOS
60
32
37.5
34.7
83.6
0.7
3.1
3.8
4.9
2.7
1.7
1.7
0.5
12.9
2020-21
BOS
48
33
39.8
33.0
79.0
0.8
2.7
3.5
5.7
2.6
1.5
2.0
0.5
13.1
2021-22
BOS
40
34
39.2
30.3
79.2
0.6
3.4
4.0
5.4
2.5
2.0
2.1
0.3
11.3
Total
489
30
37.7
31.8
77.9
0.9
2.7
3.6
4.3
2.6
1.6
1.8
0.4
10.3