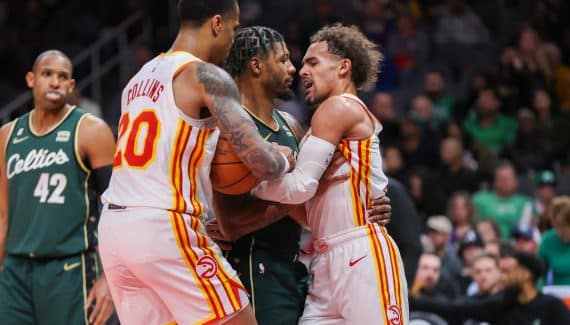 Although the second half of the season was less successful, the Celtics ended the 2022/23 fiscal year with 57 wins, six more than last season, as well as the second best record behind Milwaukee.
Now the hard part begins for Boston. To do better than last season, we will simply have to win the title. And according to Marcus Smart, the group is determined.
"We are angry again", announces the playmaker for Mass Live. "We are happy, with a smile on our face, but we are preparing. So Saturday, when we're on the floor, we're not going to see a lot of smiles anymore. »
The playoffs mode is visibly engaged in Boston. "The energy is rising", explains the defender of the year 2022. "We can't wait to have another chance to play for the title. »
The 2022 finalists face the Hawks in the first round, a reunion for Marcus Smart with Trae Young since, just a month ago, the two men were at the center of a muscular altercation.
In addition, who says playoffs mode also says more important playing time for holders. It is known: in the playoffs, the coaches shorten their rotations.
"With Derrick White and Malcolm Brogdon, we discussed it. Our main objective is to win," says Marcus Smart. "We will have to make sacrifices to win. We know that we can't play all three at the same time, that there aren't enough minutes for everyone. We are well aware that one or more of us will have to be on the bench for a while. It's for the good of the team. When the players adhere to the system, it's easier to live with, especially in the playoffs. »
Shots
Bounces
Players
GM
Minimum
Shots
3 points
LF
Off
Def
Early
pd
bp
Int
CT
party
Points
Jayson Tatum
74
36.9
46.6
35.0
85.4
1.1
7.7
8.8
4.6
2.9
1.1
0.7
2.2
30.1
Jaylen Brown
67
35.9
49.1
33.5
76.5
1.2
5.7
6.9
3.5
2.9
1.1
0.4
2.6
26.6
Malcolm Brogdon
67
26.0
48.4
44.4
87.0
0.6
3.6
4.2
3.7
1.5
0.7
0.3
1.6
14.9
Derrick White
82
28.3
46.2
38.1
87.5
0.6
2.9
3.6
3.9
1.2
0.7
0.9
2.2
12.4
Marcus Smart
61
32.1
41.5
33.6
74.6
0.8
2.4
3.1
6.3
2.3
1.5
0.4
2.8
11.5
Al Horford
63
30.5
47.6
44.6
71.4
1.2
5.0
6.2
3.0
0.6
0.5
1.0
1.9
9.8
Grant Williams
79
25.9
45.4
39.5
77.0
1.1
3.5
4.6
1.7
1.0
0.5
0.4
2.4
8.1
Robert Williams
35
23.5
74.7
0.0
61.0
3.0
5.4
8.3
1.4
1.0
0.6
1.4
1.9
8.0
Sam Hauser
80
16.1
45.5
41.8
70.6
0.4
2.1
2.6
0.9
0.4
0.4
0.3
1.2
6.4
Mike Muscala
20
16.2
47.2
38.5
69.2
0.7
2.7
3.4
0.6
0.5
0.2
0.3
1.4
5.9
Payton Pritchard
48
13.4
41.2
36.4
75.0
0.5
1.3
1.8
1.3
0.8
0.3
0.0
0.8
5.6
Blake Griffin
41
13.9
48.5
34.8
65.6
1.1
2.6
3.8
1.5
0.5
0.3
0.2
1.8
4.1
Luke Kornet
69
11.7
66.5
23.1
82.1
1.2
1.6
2.9
0.8
0.4
0.2
0.7
1.2
3.8
Justin Champagnie
2
11.7
16.7
20.0
0.0
1.0
1.0
2.0
1.5
0.0
0.5
0.0
0.5
2.5
Jd Davison
12
5.5
42.1
28.6
50.0
0.2
0.6
0.8
0.9
0.3
0.2
0.2
0.4
1.6
Mfiondu Kabengele
4
9.1
28.6
0.0
100.0
1.3
1.3
2.5
0.0
0.3
0.5
0.0
0.8
1.5
noah vonleh
23
7.4
45.8
25.0
100.0
0.8
1.3
2.1
0.3
0.5
0.1
0.3
1.5
1.1
justin jackson
23
4.7
25.9
25.0
50.0
0.1
0.7
0.7
0.4
0.1
0.2
0.2
0.3
0.9