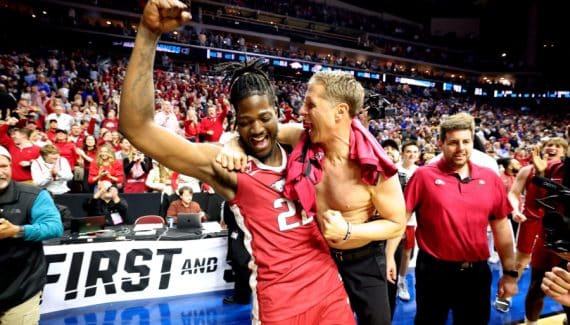 The tournament started only three days ago and the second round is not even over yet, but this "March Madness" has already started on the basis of an absolutely epic edition!
After Purdue (#1) and Arizona (#2), which came out in the first round earlier, this is another big chunk of the tournament that leaves early: Kansas, the defending champion and seeded #1, from the second round! At the end of a breathless match, the Jayhawks have indeed cracked in the last moments against Arkansas (#8).
" This is an incredible victory for our program » relished Eric Musselman, the coach of the Razorbacks. " I repeat over and over again that we continue to progress. Few teams are still progressing at this stage of the season. I have never been so proud of one of my teams as tonight. »
After scoring the first basket of the game, the Arkansas players spent the rest of the game chasing after the score, in particular catching up in the second half from a 12-point deficit to regain the advantage on the scoreboard, for the second time in the match only, with… 51 seconds remaining!
Then followed a session of free throws on both sides, until a final offensive rebound from pivot Kamani Johnson definitely tipped the scales in favor of the Razorbacks.
" This kind of match is always played to a possession, to a detail " regretted Jalen Wilson on this subject, while the Jayhawks were generally dominated in the offensive rebound sector (15 to 7 in favor of Arkansas, for 15 points on second chances against only 2 for Kansas). " It's disappointing to end like this, especially given the quality of our season. But congratulations to them for their game. »
Thus, for the third year in a row, the Razorbacks join the "Sweet Sixteen" and are now waiting to know who, from Saint Mary's or Connecticut, they will challenge for this third round.
Well worth a shirtless celebration from Eric Musselman, standing on the scorer's table after the final buzzer!