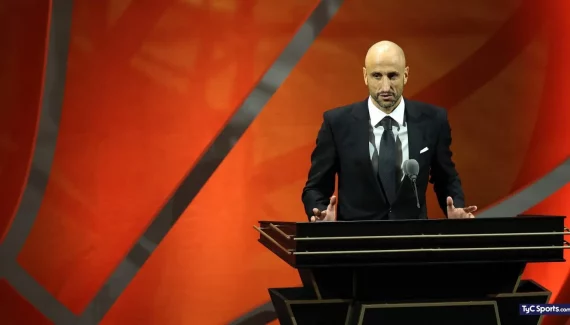 The emotion came at the end, when he spoke, in Spanish, of his family. Before that, Manu Ginobili had quickly told his career, highlighting the teams in which he evolved.
From his beginnings in Argentina, to Italy, via the United States of course, without forgetting international matches, El Manu, as often in these situations, spoke only of others and little of himself.
"I'm not here because I was a special player"he assures. "I'm here because I was part of two of the most important teams of the 2000s: Spurs, with four NBA titles, and my national team, Argentina, with my Olympic gold medal in 2004."
Inducted by his former teammate Tim Duncan, who entered the Hall of Fame in 2020, the former San Antonio fullback, citing many teammates, recalled how unforgettable the seasons in Texas were.
"Spurs have been a huge family. We have won so much, lost, I have had so many incredible experiences. Winning a title and becoming a real team requires a lot of pieces to fall into place. We had a lot. We never let our ego take over. We left Tony Parker when it was his time, the same for me, the same for Duncan, even if it was often his time (laughs). Playing with you guys was fantastic. "
Manu Ginobili then insisted on the years spent in the national team.
"The craziest thing about my career is that, at the same time as all that, I had another career, as momentous and exciting as the one with Spurs. It was with the Argentina national team. I loved our years together. The titles obviously, but also the disappointments. Conversations, trips, very late dinners, very early breakfasts, time differences. It was all well worth it. It's brotherhood. "