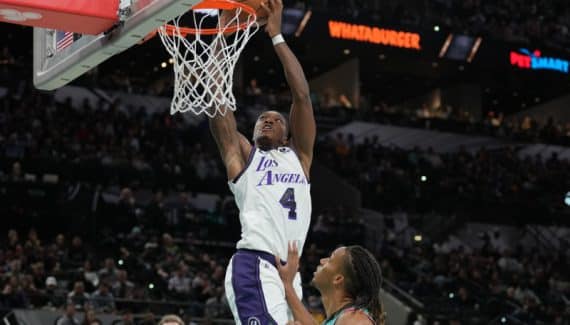 If the move to San Antonio marked a return to competition for LeBron James, the former "best enemy" of an entire city, it also marked the reunion of Lonnie Walker IV with his former public, his former teammates and his former coaching-staff.
A victorious and necessarily special double confrontation in the eyes of the now rear of the Lakers…
" It was very moving », did he recognize on this, after his 18 points on Friday night, followed by 19 units on Saturday night. " It's a bit like home here, my mother still lives there, for example. I've done a lot for the community here and the community has done a lot for me too. There is nothing but love between the city of San Antonio, this organization and me. I am still part of the family. »
No revenge with "the family"
Selected by Spurs in 18th position in the 2018 Draft, Lonnie Walker IV spent his first four years in the league under the orders of Gregg Popovichthen immediately seduced by his athletic qualities.
There he was able to develop smoothly, in a healthy organization. All in contact with several All-Stars, such as DeMar DeRozan, LaMarcus Aldridge or Dejounte Murray. Today, he retains only the positive of this experience.
" I know a lot of people have talked about revenge, but there was no revenge for this team. It's the family. I was much more focused on winning ", he declared thus, without the slightest hint of bitterness.
Even if he claims not to have wanted revenge on Spurs, Lonnie Walker IV must have wanted to shine against his former team. All the more so after this departure which he did not expect, this summer…
" I expected to re-sign, but I didn't know at what cost ", he conceded first. " I hadn't played my best basketball at the start of last season, I was shooting pretty badly, but after the All-Star break things kind of changed. Anyway, I thought I was going to play for life at Spurs, and that's the least we can say. »
Los Angeles, a simple step?
Ultimately, Lonnie Walker IV found a new base on the side of Los Angeles, where the leaders of the Lakers offered him 6.5 million dollars over one year. Like Malik Monk before him, he has twelve months to prove himself and, if all goes well, this will lead to a nice contract during the next off-season…
" I think being in the spotlight is what allows me to perform at my best. ", he judged, when asked about his good start with the "Purple & Gold". " I love playing in this kind of environment, with these kind of players and I just try to show my talent. Few people know my game, my way of playing, but it's finally starting to show. »
So far, we can actually say that Lonnie Walker IV has started strong in California, since he averages 17.1 points, 48% on shots and 37% from 3-pts, being above all an obvious starter in the eyes of Darvin Ham. Everyone finds their account in this story…
lonnie walker
Percentage
Bounces
Season
Crew
GM
Minimum
Shots
3 points
LF
Off
Def
Early
pd
party
Int
bp
CT
Points
2018-19
SAN
17
7
34.8
38.5
80.0
0.0
1.0
1.0
0.5
0.4
0.4
0.2
0.2
2.7
2019-20
SAN
61
16
42.6
40.6
72.1
0.4
1.9
2.3
1.1
1.3
0.5
0.7
0.2
6.4
2020-21
SAN
60
25
42.0
35.5
81.4
0.2
2.4
2.6
1.7
1.7
0.5
1.1
0.3
11.2
2021-22
SAN
70
23
40.7
31.4
78.4
0.3
2.3
2.6
2.2
1.4
0.6
1.0
0.3
12.1
2022-23
ALL
15
32
46.8
35.8
83.7
0.3
1.7
2.1
1.9
1.9
1.1
1.2
0.5
17.0
Total
221
21
41.9
34.4
78.5
0.3
2.1
2.4
1.6
1.4
0.6
0.9
0.3
9.8