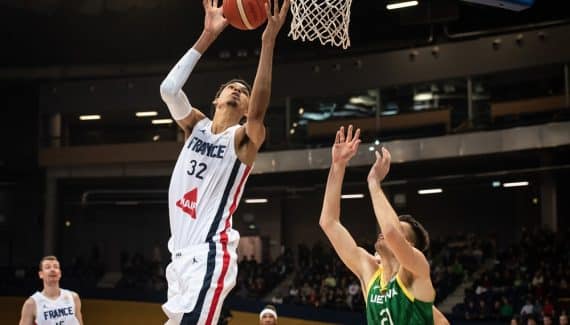 Almost two months after their defeat in the EuroBasket final against Spain, theFrench team was making his comeback, as part of the qualifiers for the World Cup 2023. This time without "NBAers", but with the phenomenon Victor Wembanyamawho made his national debut against Lithuaniaalong with Juhann Begarin, Ismaël Kamagate, Damien Inglis and Yoan Makoundou.
A successful first cape for "Wemby", author of 20 points and 9 rebounds in 23 minutes (at 6/13 in shots and 7/7 in throws), at +25 in "plus/minus" and 23 in evaluation, in the French victory at Kaunas (90-65). Alongside the (probable) future N°1 of Draft 2023, Sylvain Francisco added 21 points (at 5/5 at 3-pts), while Damien Inglis had 15 points and 8 rebounds (6/10 on shots).
Well in place defensively – despite a few small oversights – and authoritative in the painting offensively, the Blues took this meeting by the right end, under the impetus of a Damien Inglis who made his power speak under the circle. Sometimes static and deprived of 3-pts, the tricolor attack was content to press inside, feeding on its effectiveness in defense. As for Sylvain Francisco, he brought a welcome boost from the bench, to put Vincent Collet's men at +8 after ten minutes (22-14).
In the second quarter, Lithuania finally found outside address and took advantage of a few French ball losses to quickly return to possession. On a good evening, the elusive Sylvain Francisco continued his momentum to give France some air. Then the return to business of Victor Wembanyama, influential defensively and offensively, helped the vice-champions of Europe to regain a comfortable lead, to return to the locker room at +10 (43-33).
After the break, the Sylvain Francisco show resumed with a vengeance, since the leader of Peristeri activated the "Stephen Curry mode", with three new award-winning successes! Incandescent, he carried the Blues on his shoulders and towards a +20 advantage, as the tricolor defense remained true to itself over the minutes. It was then the turn of Victor Wembanyama to sink Lithuania, 3-pts and close to the circle, killing – probably – already all suspense after three quarters (70-47).
As you will have understood, France quietly managed the last ten minutes of this game on Lithuanian lands, getting a little closer to qualifying for the next World Cup, which will take place from August 25 to September 10, 2023, in Indonesia, in Japan and the Philippines…
France's statistics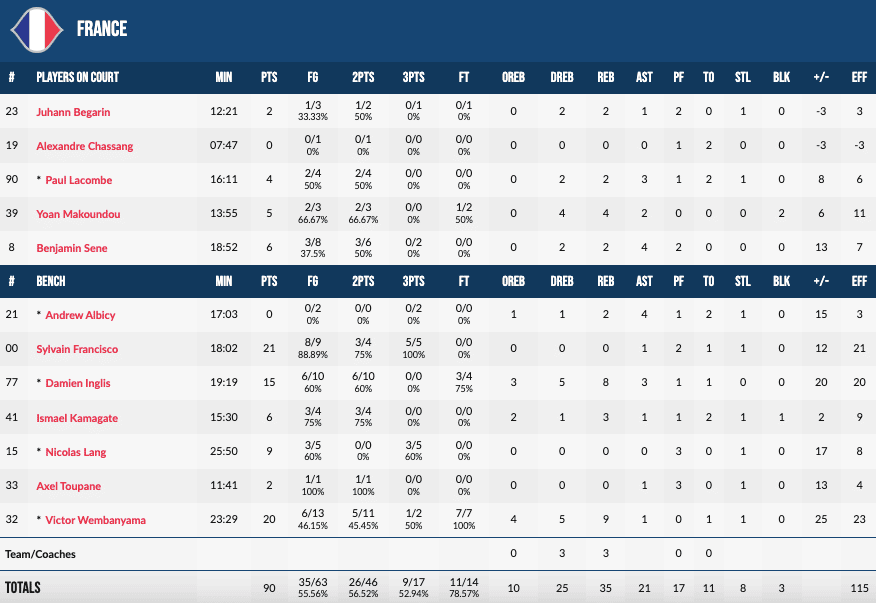 Photo credit: FIBA.com