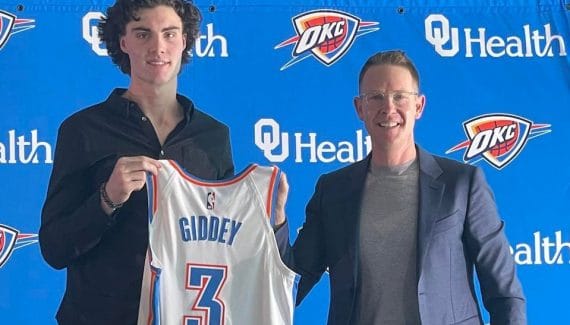 Although he explains that he is not "at home" in Cleveland, LeBron James received a massive ovation from Rocket Mortgage FieldHouse at the player introduction. At 37, the Lakers winger remembered the 1997 All-Star Game, when he was a pre-teen.
"I thought 25 years ago, I was a 12-year-old kid, who would have loved to be there, to be able to come to Cleveland and just feel that energy, and just come across one of those players… I had so many dreams of being an All-Star as a kid from Akron, with a franchise 35 minutes north of my house…"
Twenty-five years later, LeBron celebrates his 19th selection, and he finds himself surrounded by kids, barely 20 years old. Like Josh Giddey, present at the Rising Stars. The Australian is only 19 years old, and he has just equaled Oscar Robertson with a 3rd triple-double in a row. Asked about the talent of the Thunder rookie, LeBron took the opportunity to praise the qualities of Sam Presti, the thinking head of the OKC franchise forever.
"The MVP here is Sam Presti" launches LeBron. "I can't understand the eye he has for finding talent. KD, Russ, Jeff Green, Serge Ibaka, Reggie Jackson, Josh Giddey… This guy is unbelievably good! "
LeBron gave a nice list of names, but he left out James Harden and Steven Adams. This already gives a very nice roster.