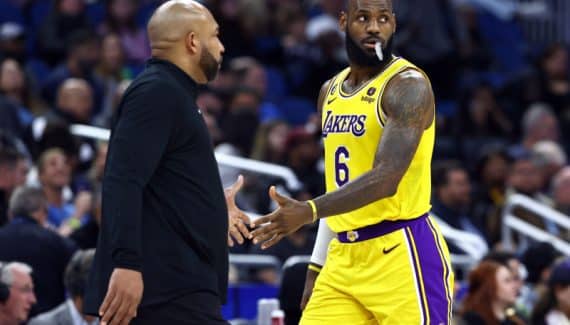 Head to the East Coast and Florida for Lakerson a series of four defeats in a row and who were counting on this trip to the Magic to relaunch. Problem: the Florida franchise was in sparkling form (eight wins in nine games) and it looked like a tricky match for the "Purple & Gold".
Lucky for Los Angelesthe inevitable LeBron James (28 points, 7 rebounds, 5 assists) held its rank and guided the entire Californian collective to a success that was both convincing and authoritative, on the floor ofOrlando (129-110).
In the lead almost the whole match, Darvin Ham's men were able to rely on a good address, notably at 3-pts, coupled with their domination inside, to undermine the locals and attack on the right foot this back to back peril that awaits them.
WHAT YOU MUST REMEMBER
— Los Angeles has mastered its subject. Installed in command from the first act, the Lakers never let go thereafter, counting up to 21 points ahead at the very end of the game. Well launched by a good marksmanship (54%) and numerous successes at 3-pts (17, against 10 in front), the "Purple & Gold" especially took advantage of this match to regain confidence in attack. In place collectively, dominant in the rebound and sharp in the paint, LeBron James' teammates thus delivered their most successful performance since the injury of Anthony Davis. To reproduce, therefore.
TOPS/FLOPS
✅ The Los Angeles Collective. From LeBron James, of course, to Thomas Bryant (21 points, 10 rebounds), passing by the very restless Russell Westbrook (15 points, 13 rebounds, 13 assists), Troy Brown Jr. (15 points) and even Patrick Beverley ( 14 points) or Lonnie Walker IV (10 points): no less than six Lakers players finished at 10 points or more last night. Making the Magic's task difficult defensively, as the danger came from all over the California ranks. A good omen, when we know that Los Angeles has recently struggled to properly support "LBJ" in attack.
⛔ Paolo Banchero. Responsible for defending a certain LeBron James, the Magic rookie had a bad night and signed one of the worst games of his young career, if not the worst. Author of only 4 points in 22 minutes, all at 1/6 on shots, the first choice of the Draft never managed to get into his game. Unable to find his rhythm in attack, he also suffered in defense, accumulating faults (5 in total) when he did not take a basket on the nose. A meeting to forget, therefore, but nevertheless rich in lessons, for the favorite for the title of Rookie of the year 2023.
THE FOLLOWING
Orlando (13-22) : back to back in Detroit, on the night of Wednesday to Thursday (01:00).
Los Angeles (14-20) : back to back in Miami, on the night of Wednesday to Thursday (01:30).
Orlando

/

110
Shots
Bounces
Players
Minimum
Shots
3 points
LF
O
D
T
pd
party
Int
bp
CT
+/-
Points
Rating
P. Banchero
22
1/6
0/2
2/4
1
4
5
3
5
1
2
0
-12
4
4
F.Wagner
31
4/8
2/4
5/5
0
2
2
4
1
1
2
0
-10
15
16
Mr. Wagner
22
5/8
1/3
1/2
2
2
4
4
4
2
2
0
-7
12
16
B.Bowl
22
4/7
1/1
1/4
1
4
5
0
0
0
0
1
-3
10
10
Mr. Fultz
28
7/13
1/4
1/2
1
2
3
3
1
3
2
2
-3
16
18
C. Houstan
9
1/1
1/1
0/0
0
1
1
0
0
0
0
0
-4
3
4
W.Carter Jr.
19
6/8
2/2
1/2
1
2
3
4
2
0
1
0
-10
15
18
Mr Bamba
20
2/5
1/4
0/0
0
5
5
1
0
0
0
2
-9
5
10
C.Anthony
26
4/13
0/3
0/0
1
1
2
4
4
1
2
0
-13
8
4
RJ Hampton
2
0/1
0/0
0/0
0
1
1
1
0
0
0
0
-1
0
1
T.Ross
21
6/10
0/2
1/2
1
1
2
1
0
0
0
0
-14
13
11
G.Harris
18
2/4
1/2
4/4
0
4
4
0
0
0
0
0
-9
9
11
Total
42/84
10/28
16/25
8
29
37
25
17
8
11
5
110
123
LA Lakers

/

129
Shots
Bounces
Players
Minimum
Shots
3 points
LF
O
D
T
pd
party
Int
bp
CT
+/-
Points
Rating
L.James
31
12/24
0/7
4/5
2
5
7
5
1
1
4
1
+8
28
25
T.Bryant
31
8/10
1/1
4/6
4
6
10
1
2
1
0
0
+6
21
29
P.Beverley
30
5/11
4/10
0/0
0
2
2
2
3
0
0
1
+3
14
13
D.Schroder
28
2/3
1/1
2/2
1
1
2
2
2
1
3
0
+9
7
8
L.Walker IV
25
3/10
2/7
2/2
0
1
1
2
1
0
0
0
+2
10
6
W.Gabriel
15
2/5
1/2
0/0
1
5
6
1
3
0
0
0
+11
5
9
T.Brown Jr.
17
6/7
3/4
0/0
1
0
1
1
1
0
0
0
+15
15
16
R.Westbrook
29
6/11
1/3
2/2
0
13
13
13
3
0
4
0
+18
15
32
A.Reaves
26
3/7
2/6
0/0
0
3
3
5
0
1
2
0
+12
8
11
K.Nunn
2
2/2
2/2
0/0
0
1
1
0
0
0
0
0
+4
6
7
Mr Christie
5
0/0
0/0
0/0
0
0
0
0
0
0
0
0
+7
0
0
49/90
17/43
14/17
9
37
46
32
16
4
13
2
129
156