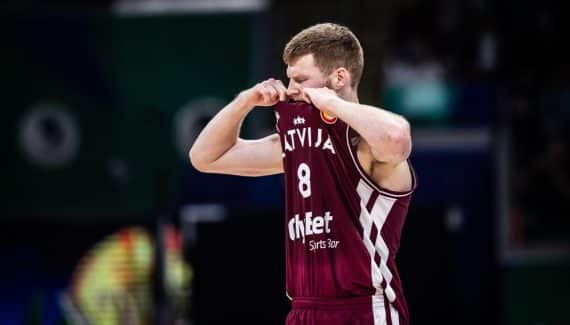 It all came down to one shot for Latvia. Overall dominated by Germany, Davis Bertans and his teammates were mainly in the reaction, until the last few seconds, when they had the match point. But Bertans missed his attempt at 3-pts and the Germans slipped into the semi-finals.
The dreams of continuing the adventure are gone, but not the pride of having achieved a superb World Cup as the country took part in this competition for the first time in its history.
"There is disappointment, but we haven't lost sight of what we have achieved: coming here to Manila and being at the same table as the seven best teams in the world"relates coach Luca Banchi to Eurohoops. "We showed that we were competitive and that makes us extremely proud. We are proud of our imperfections, we had no experience as we had not participated in an international competition since 2017, but we are happy with our journey and totally focused on the future. »

Latvia beat the world and European champion, and the Olympic vice-champion!
There is something to be proud of. Latvia beat France, Spain and Brazil, before falling by two points against Dennis Schroder and his band, while offering a nice collective basketball and without Kristaps Porzingis. This was the great story of this competition and it is promising as the country will be co-host of Eurobasket in 2025.
"I'm very proud of this team, we fought every game," explains Davis Bertans. "We were close to winning and we played like a team. The only objective was to give everything to each part. Everyone in the locker room gave it their all. »
It now remains the two classification matches to afford the best possible place. It starts this Thursday against Italy, the homeland of Luca Banchi. "It's obviously strange for an Italian, but two years ago I didn't expect to play at this level in a World Cup. I'm proud of it. »