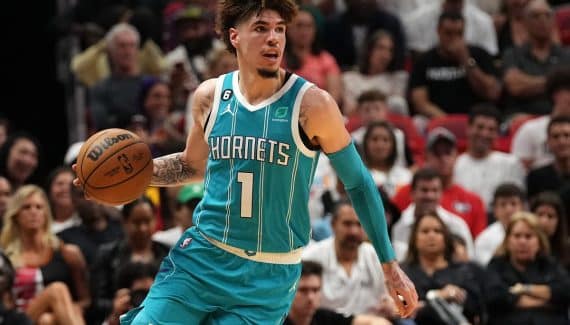 "When a player of this caliber comes back, it makes the game easier for everyone. » No doubt Steve Clifford welcomed the return of LaMelo Ball, for the meeting in Miami. As a reminder, the Hornets playmaker injured his left ankle during the preseason, missing the start of the regular season.
Against the Heat, the All-Star showed good, with 15 points, 6 rebounds and 6 assists, but also less good, by compiling five faults and an ugly 1/9 at 3-pts. There was waste in his game, which makes sense given he lacked pace. We will therefore have to be patient to see him again at his best level.
"It feels good to be back, to be able to run, to play competitive basketball," comments the player at Charlotte Observe. "It was nice to come back. With more matches, it will be easier. I am in good condition. »
The absence of the rookie of the year 2022 was obviously detrimental since Lonzo's brother, in addition to being a starter, was above all the second best scorer and the best passer in the team last season.
The Hornets, who lost in Florida, remain on eight straight defeats, have won only three games out of fourteen and the attack is in great difficulty (28th in efficiency) compared to the good performances of last season.
"It's the sign of a team that plays without its best striker"notes the coach of the Hornets. "Having depth helps in the long run. Good players were absent and if we bring back LaMelo Ball, Gordon Hayward and Terry Rozier (who all missed several meetings), so we will play much better in the future. »
LaMelo Ball
Percentage
Bounces
Season
Crew
GM
Minimum
Shots
3 points
LF
Off
Def
Early
pd
party
Int
bp
CT
Points
2020-21
CHA
51
29
43.6
35.2
75.8
1.2
4.7
5.9
6.1
2.7
1.6
2.8
0.4
15.8
2021-22
CHA
75
32
42.9
38.9
87.2
1.4
5.2
6.7
7.6
3.2
1.6
3.3
0.4
20.1
Total
126
31
43.1
37.8
82.6
1.4
5.0
6.4
7.0
3.0
1.6
3.1
0.4
18.3