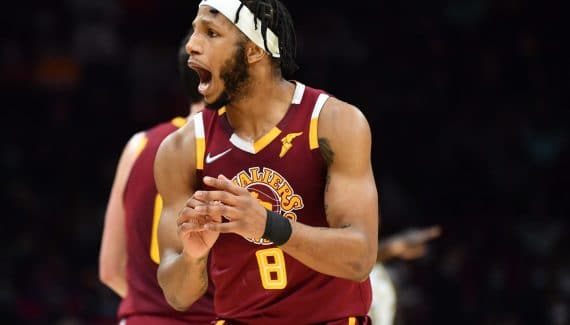 We keep repeating it, but the NBA is a league of opportunities, where you have to know how to "take advantage" of the misfortune of others to achieve your own happiness. In Ohio, the case of Lamar Stevens is the perfect example.
Because, with the successive injuries of Collin Sexton, Ricky Rubio and Isaac Okoro, to which we must sometimes add the physical glitches of Cedi Osman and Dylan Windler, JB Bickerstaff had no choice but to install his 24-year-old player in the starting five, at position 2. Even though he is only a training winger and had regularly been used as a strong winger last season.
But, in this NBA where the notion of position now makes less and less sense, the versatile Lamar Stevens did not hesitate to take up this new challenge. And, despite an unreassuring outside shoot (26% from 3-point career), but in progress (36% since December), the native of Philadelphia begins to find his bearings in the workforce.
The moral support of his coach also has a lot to do with it.
" There were times when I felt like [J.B. Bickerstaff] believed in myself more than I believed in myself ", precisely remembered the former resident of the small university of Penn State, non-drafted last year.
A hot start to the year
Increasingly comfortable in the team, and now contractually freed from a burden, as his managers recently decided to guarantee his contract for the rest of the season, Lamar Stevens can now play without this fear of becoming " free agent" at any time. And this has been visible for several days.
" He's just himself. He plays aggressively, on both sides of the court, and that's all we expect of him. », confided for example Darius Garland, about his teammate.
In confidence, Lamar Stevens has already equaled or beaten his points record three times, in 2022! And the last of these three times dates back to no later than this night: 23 points against the Jazz, 10/15 on shots, with also 7 rebounds. All in 30 minutes of play.
Best scorer for the Cavaliers in Utah, the 24-year-old winger greatly benefited from the caviars of Darius Garland – author of the first triple-double of his career (11 points, 10 rebounds, 15 assists) – to sanction the Mormon defense, particularly permissive in the absence of Rudy Gobert.
The team first
Especially in this third quarter where Lamar Stevens planted 15 of his 23 points, so as to knock out the Salt Lake City franchise.
" I let myself be carried away at this moment », he reacted, about his hot shot, filled with aggression towards the circle and halfway. " I was able to select and find my shooting positions, I was really full of confidence and I rode on it to let the game come to me and get me to those 15 points. »
If he considers go in the right direction with his teammates, while these young Cavs are still in the learning phase, Lamar Stevens is especially delighted to be considered the heart and soul of this Cleveland team, currently 6th in the East (24 wins – 18 losses).
" It means a lot to me, considering the road I had to cross to get here. ", he said as well. " That my teammates can say that about me is something that I absolutely do not take lightly. I just give everything for my team, because the team has to come before me. I always rejoice in success [de mes coéquipiers] and that of the team. »
lamar stevens
Percentage
Bounces
Season
Team
GM
Minimum
Shots
3 points
LF
Off
Def
Early
pd
party
Int
bp
CT
Points
2020-21
KEY
40
13
45.6
16.0
72.5
0.6
1.8
2.4
0.6
1.3
0.4
0.6
0.3
4.1
2021-22
KEY
28
15
46.8
33.3
66.7
0.7
1.6
2.3
0.6
1.5
0.4
0.5
0.2
5.1
Total
68
13
46.2
26.2
70.8
0.7
1.7
2.4
0.6
1.4
0.4
0.6
0.3
4.5