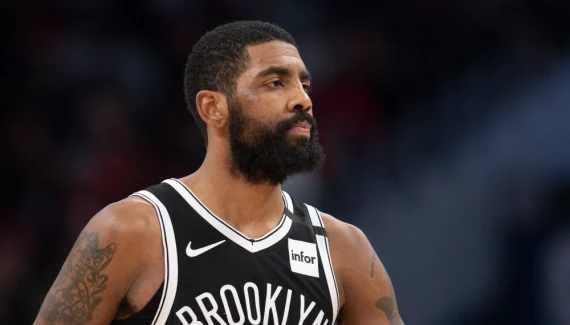 Suspended at least five games without pay by the Nets for having shared anti-Semitic content on social networks and not having apologized at first, Kyrie Irving must now prove to his leaders, but also the NBA, that he realized the seriousness of his actions and that he is not an anti-Semite.
This notably involves a meeting with Adam Silver, the big boss of the NBA, and according to PA, the two men saw each other on Tuesday. We imagine that it was in New York in the offices of the NBA, even if nothing filtered from this meeting. A week ago, Silver reacted to the controversy and announced that he would meet Irving.
"Kyrie Irving made a rash decision by posting a link to a film containing deeply offensive anti-Semitic material" explained the commissioner. "While we appreciate that he agreed to work with the Brooklyn Nets and the Anti-Defamation League to combat anti-Semitism and other forms of discrimination, I am disappointed that he did not present unreserved apologies and that he did not more specifically denounce the vile and harmful content contained in the film he chose to promote. I will be meeting with Kyrie in person over the next week to discuss this situation."
This meeting is only one stage in the path of Irving to find the grounds. The Nets have given him a six-step program, and until he meets those obligations, he will not play again.
This Wednesday, Irving will miss his 4th game, and it's the derby against the Knicks. Then, his training leaves on a "road trip" of four matches in the West, and we do not know if he will accompany his teammates.