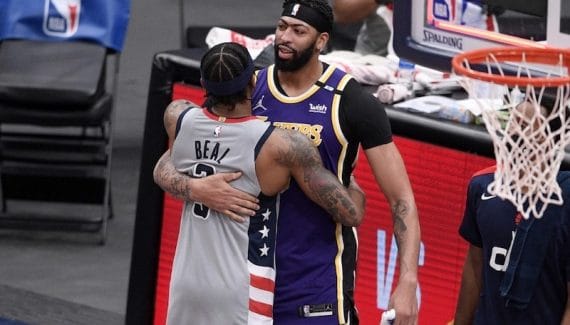 No one was surprised to see Kyle Kuzma's point average drop in his third season in the league, as the 2019-20 season was marked by Anthony Davis joining the Lakers. Kuzma found himself playing alongside two of the league's 15 top scorers that year, along with "AD" and LeBron James.
Transferred to Washington this summer, the winger will now team up with a player who has just finished second in this ranking for two years in a row: Bradley Beal. Barely arrived in the club of the American capital, the former player of the Lakers is already embarking on the comparison.
" Obviously, looking from afar at a guy scoring 30 points every night, we can tell ourselves that he is not a player looking for the pass., does he judge at NBC Sports. But he made the right choice and it is really important to win. This is what I notice, especially after playing with LeBron and AD. If they wanted, they could go up the field and score at will. But the most important thing is to understand your teammates and to know what is the right choice to make. And that's what he does. "
If the back of the Wizards has taken such a dimension in the "scoring" in recent seasons, beyond his progress in the game, it is also because of the size of his team. The repeated injuries of his partner at the time, John Wall, pushed him to take responsibility.
Today, he is one of the most watched players in opposing defenses in the league. And if his passing average fell below five units last year, with Russell Westbrook in the lead, his very presence frees up space for the others. Although he obviously doesn't control the game and creation as much as LeBron James.
" Every day I learn something new about him ", Continues Kuzma, who nevertheless noticed that Beal was a good passer. A quality that he will undoubtedly be able to exploit more next season by evolving with attacking players like Spencer Dinwiddie and Kyle Kuzma precisely.
Bradley Beal
Percentage
Rebounds
Season
Team
MJ
Min
Shots
3pts
LF
Off
Def
Early
Pd
Fte
Int
Bp
Ct
Pts
2012-13
WAS
56
31
41.0
38.6
78.6
0.8
3.0
3.8
2.5
2.0
0.9
1.6
0.5
13.9
2013-14
WAS
73
35
41.9
40.2
78.8
0.7
3.0
3.7
3.3
2.1
1.0
1.8
0.3
17.1
2014-15
WAS
63
34
42.7
40.9
78.3
0.9
2.9
3.8
3.1
2.2
1.2
2.0
0.3
15.3
2015-16
WAS
55
31
44.9
38.7
76.7
0.8
2.7
3.4
3.0
2.1
1.0
2.0
0.2
17.4
2016-17
WAS
77
35
48.2
40.4
82.5
0.7
2.4
3.1
3.5
2.2
1.1
2.0
0.3
23.1
2017-18
WAS
82
36
46.0
37.5
79.1
0.7
3.7
4.4
4.6
2.0
1.2
2.6
0.4
22.7
2018-19
WAS
82
37
47.5
35.1
80.8
1.1
3.9
5.0
5.5
2.8
1.5
2.7
0.7
25.6
2019-20
WAS
57
36
45.5
35.3
84.2
0.9
3.3
4.3
6.1
2.2
1.3
3.4
0.4
30.5
2020-21
WAS
60
36
48.5
34.9
88.9
1.2
3.5
4.7
4.4
2.3
1.2
3.1
0.4
31.3
2021-22
WAS
28
36
45.6
28.3
82.0
1.0
3.6
4.6
5.9
2.3
0.8
3.4
0.3
23.3
Total
633
35
45.6
37.3
82.0
0.9
3.2
4.1
4.1
2.2
1.1
2.4
0.4
22.1