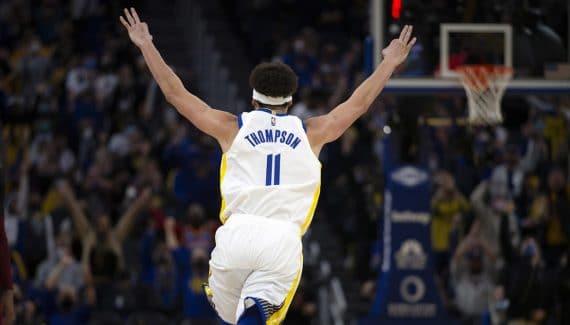 If the TV audiences are not incredible this season, with in particular disappointing Christmas matches in this regard, the return of Klay Thompson has on the other hand attracted a lot of people, in front of television but also on the Web.
The NBA announces that this comeback was squarely the "Regular season time" the most watched in history on its virtual platforms, with 110 million views in total. The evening of Sunday was also particularly prosperous for the accounts Twitter, Facebook or Instagram of the league since the introduction on the floor of Klay Thompson was seen 22.3 million times, the warm-up of the "Splash Brothers" 16.4 million times and Ja Morant's cons on Avery Bradley 13 million times!
Big enthusiasm also on television since the match was broadcast on NBA TV, which is only available in 50 million American households, but still attracted 844,000 people in front of their small screen.
It's the most-watched regular season game on this channel since 2016. Aired on NBC Sports in the San Francisco area, the Warriors-Cavaliers game drew 12.7% of the Bay's viewers, making it also the most watched game on the channel since 2016.
Either since the game against the Grizzlies, who had offered a 73rd victory to Stephen Curry to his teammates, to beat the record of success in the regular season, until then held by the Bulls of Michael Jordan.