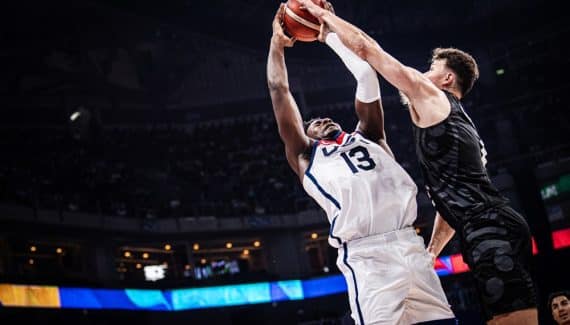 Through his history with the Grizzlies for one and his experience in the position for the other, Tony Allen and Kevin Garnett discussed the situation of Jaren Jackson at the end of a World Cup, where he symbolized the Americans' internal and defensive problems with only 2.9 rebounds per game!
Overall, the Memphis interior will have been ineffective in attack and defense, always with this fault of making stupid mistakes, and we wonder what their state of mind will be for the restart. For the two former character players from the 2000s, JJJ will use all of this to come back stronger.
"It will be a good thing for him to say that he has been there. I experienced that, I was criticized. Now the time has come to re-evaluate myself and get back to working on this or that thing," underlined Tony Allen. "In this coming year, I think he will have the chance to progress, to grab more rebounds, be sharper on defense, and just be able to respond to criticism. It's true, he didn't play well, but the entire Team USA team didn't play well. I expect him to come back strong this year, to realize his physique, his game, what he has to do as an interior, and how dominant he can be."
Ready from October instead of December or January
Same story for Kevin Garnett, who highlighted the physical form of Jaren Jackson Jr. to approach this season, and first of all the "training camp".
"For me too, he's going to have a very good year, and you know why? Tell me where can we have this kind of epic during a summer? Who cares how he played, I'm talking about rhythm. He is used to his spots, to being a great interior player, to helping. There are also the FIBA ​​regulations, where he has to be everywhere, manage zone defense, and all that. But now he's in rhythm! » KG proclaims. "From now until training camp, I don't care what you say, he's going to come into training camp with confidence after playing in FIBA. And he's in rhythm! Look at how his 3-point shot is, his assists and his activity. That's all I watch. »
Beyond the pace, Jaren Jackson Jr. will also have to manage the mental aspect after the individual and collective failure in this World Cup.
"He was criticized for what he didn't do in FIBA ​​basketball? "That's what he's going to bring to Memphis this year," continued Kevin Garnett for whom the combination of a vengeful state of mind and a season that started off on a physical level will be the keys to his season. "Everyone who played in the World Cup is going to have a very good season. I always say that if you haven't played since July, you're out of rhythm. If you don't play in July, in terms of rhythm, you will perhaps find your best level in December or January (…). There's a question of rhythm behind it all."
Jaren Jackson, Jr.
Percentage
Rebounds
Season
Team
MJ
Min
Shots
3pts
L.F.
Off
Def
Early
Pd
Party
Int
Bp
Ct
Pts
2018-19
SAME
58
26
50.6
35.9
76.6
1.3
3.4
4.7
1.1
3.8
0.9
1.7
1.4
13.8
2019-20
SAME
57
29
46.9
39.4
74.7
1.0
3.6
4.6
1.4
4.1
0.7
1.7
1.6
17.4
2020-21
SAME
11
24
42.4
28.3
83.3
1.6
4.1
5.6
1.1
3.8
1.1
1.4
1.6
14.4
2021-22
SAME
78
27
41.5
31.9
82.3
1.5
4.3
5.8
1.1
3.5
0.9
1.7
2.3
16.3
2022-23
SAME
63
28
50.6
35.5
78.8
1.7
5.1
6.8
1.0
3.6
1.0
1.7
3.0
18.6
Total
267
27
46.6
35.2
79.0
1.4
4.1
5.5
1.1
3.7
0.9
1.7
2.1
16.5
How to read the stats? MJ = matches played; Min = Minutes; Shots = Successful shots / Attempted shots; 3pts = 3-points / 3-points attempted; LF = free throws made / free throws attempted; Off = offensive rebound; Def=defensive rebound; Tot = Total rebounds; Pd = assists; Fte: Personal fouls; Int = Intercepts; Bp = Lost balls; Ct: Against; Pts = Points.