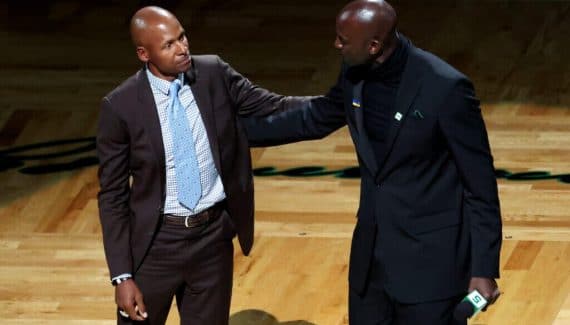 While his number #5 joined the already busy ceiling of the TD Garden, Kevin Garnett was also able to celebrate his reconciliation with Ray Allen, after a quarrel that lasted nearly ten years…
Third member of the "Big Three" of the Celtics, champions in 2008, "Sugar Ray" had finally left Boston for the enemy, Miami, in 2012. A betrayal in the eyes of the "Big Ticket" which it therefore took a very long time to to forgive. But after the reunion at the last All-Star Game, things finally calmed down.
"It's good to see Ray Allen here"launched Kevin Garnett. " For real. It is good to see you. You are next. "
Celtics to retire Ray Allen's #20? In any case, all the former members of the team titled in 2008 were delighted to see that Kevin Garnett and Ray Allen had finally moved on.
"It's not because I moved that this relationship, this friendship, ends. So it was centered around Kevin and me, because I felt like people here felt what Kevin felt. Once he accepted me, people accepted me"
"Yes, it's major"confided Doc Rivers. "Because it's been a problem, obviously, and the fact that the wall is finally coming down is really nice. I am very happy for Kevin, and delighted that Ray is here. "
Ray Allen, however, admitted that he had long thought he was not welcome, before the reunion at the ceremony for the 76 best players in history, in Cleveland, did not break the ice.
" Certainly "he answered on his pleasure to be present. "I don't like being outside. There are so many people here that I love, that I have spent time with… These people, they are etched in my mind when it comes to my time here in Boston, and not being able to keeping in touch with them has always been difficult for me. It's not because I moved that this relationship, this friendship, ends. So it was centered around Kevin and me, because I felt like people here felt what Kevin felt. Once he accepted me, people accepted me. That's what I felt. I'm glad we were able to do that and people could see that, 'We won with this guy in 2008, and that's what matters the most'. "