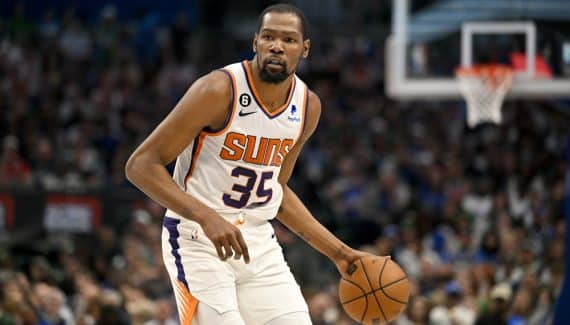 He was eager to play in front of his new audience, and finally, Kevin Durant missed this big meeting! During warm-up, Phoenix's star rookie twisted his left ankle!
Initially, we think it's a simple alert since he returns to warm up for exercises at the low post. But… the ankle has already swollen, and he is forced to stop everything.
Finally, he left the room with a protective boot, and according to the Arizona Republic, he suffers from a "grade 2" sprain, and his absence could be between four and six weeks. If this prediction is confirmed, he will only return for the playoffs!
"It happened to me before in the summer" testifies Devin Booker. "Kevin goes all out in every practice, and things like that happen. I believe it first slipped, then the ankle spun. We see it on the video. »
After the victory against the Thunder, Monty Williams announced that the player would undergo an MRI Thursday to learn more about this sprain. "I feel bad for him…because he's disgusted…I saw it in his face, and I've known him for a while." I know how he feels, and I don't want him to feel like that. »
While he was just coming back from injury, Kevin Durant will have to wait to start in front of his new audience. "We will reschedule the party" ad Devin Booker. "I'm sure people will come back, those who missed it tonight. I tried to give them a little something to make it go better. »
Kevin Durant
Percentage
Bounces
Season
Crew
GM
Minimum
Shots
3 points
LF
Off
Def
Early
pd
party
Int
bp
CT
Points
2007-08
SEA
80
35
43.0
28.8
87.3
0.9
3.5
4.4
2.4
1.5
1.0
2.9
0.9
20.3
2008-09
OKAY
74
39
47.6
42.2
86.3
1.0
5.5
6.5
2.8
1.8
1.3
3.0
0.7
25.3
2009-10
OKAY
82
40
47.6
36.5
90.0
1.3
6.3
7.6
2.8
2.1
1.4
3.3
1.0
30.2
2010-11
OKAY
78
39
46.2
35.0
88.0
0.7
6.1
6.8
2.7
2.0
1.1
2.8
1.0
27.7
2011-12
OKAY
66
39
49.6
38.7
86.0
0.6
7.4
8.0
3.5
2.0
1.3
3.8
1.2
28.0
2012-13
OKAY
81
39
51.0
41.6
90.5
0.6
7.3
7.9
4.6
1.8
1.4
3.5
1.3
28.2
2013-14

★

OKAY
81
39
50.3
39.1
87.3
0.7
6.7
7.4
5.5
2.2
1.3
3.5
0.7
32.0
2014-15
OKAY
27
34
51.0
40.3
85.4
0.6
6.0
6.6
4.1
1.5
0.9
2.7
0.9
25.4
2015-16
OKAY
72
36
50.5
38.8
89.8
0.6
7.6
8.2
5.0
1.9
1.0
3.5
1.2
28.2
2016-17
GOS
62
33
53.7
37.5
87.5
0.6
7.7
8.3
4.8
1.9
1.1
2.2
1.6
25.1
2017-18
GOS
68
34
51.6
41.9
88.9
0.5
6.4
6.8
5.4
2.0
0.7
3.0
1.8
26.4
2018-19
GOS
78
35
52.1
35.3
88.5
0.4
6.0
6.4
5.9
2.0
0.7
2.9
1.1
26.0
2020-21
BRK
35
33
53.7
45.0
88.2
0.4
6.7
7.1
5.6
2.0
0.7
3.4
1.3
26.9
2021-22
BRK
55
37
51.8
38.3
91.0
0.5
6.9
7.4
6.4
2.1
0.9
3.5
1.0
29.9
2022-23 *
All Teams
42
36
56.6
38.6
93.1
0.4
6.4
6.8
5.2
2.3
0.8
3.4
1.5
29.5
2022-23 *
BRK
39
36
55.9
37.6
93.4
0.4
6.4
6.7
5.3
2.4
0.8
3.5
1.5
29.7
2022-23 *
PHX
3
33
69.0
53.8
88.2
0.3
7.0
7.3
3.7
1.7
0.3
2.0
1.3
26.7
Total
981
37
49.9
38.4
88.6
0.7
6.4
7.1
4.3
1.9
1.1
3.2
1.1
27.3