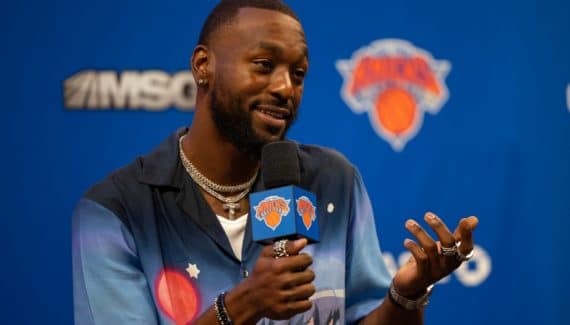 Despite himself, Kemba Walker is a bit of a symbol of the Knicks' failed season. A few flashes, a ban(c), and finally tasteless matches. He who was happy to wear the jersey of his hometown finds himself "role player", almost the last option in attack to the point of remaining on two matches without the slightest point!
"Two matches in a row, that had never happened to me" he recognizes in the New York Post. "I have to find a way to be productive. It's a different period in my career. I just still have to get used to changing my game. I'm in a completely different role to what I've been through in my career. Even when I was in Boston. So I'm in a completely different role, and personally I'm still in a period of adjustment. But it's not really about me. I do whatever it takes to help the team win. And I just have to play better. That's really all. "
"It just takes longer than I imagined"
Even if he remains a starter, Walker is only a pawn. He rides the ball and that's it. Systems are no longer for him.
" It's very difficult " continues the former All-Star. "It's just so different. I am completely in a different position and in a different role. But it's up to me to learn to play with the guys, to learn to find my shots, and it just takes longer than I imagined. "
At 31, Walker takes the crumbs left by Barrett, Fournier and Randle, and his good state of mind allows it not to disrupt the group.
"We have a lot of guys who can score, and they don't rely on me. So I'm just here to play these guys. I play next to these guys. I'm waiting for my opportunities, and I'm still learning to find the times when I need to be aggressive and things of that nature on this team. I will not stop repeating it, it is different. It's just different for me. I'm just going through it all on my own and learning about myself. It can be difficult at times but it's just a new challenge for me. What's good is that I'll find my way. As a player, I'm not a person who will harm the team or anything. So of course, we have to work, everything is not always going to work.
Kemba Walker
Percentage
Bounces
Season
Team
GM
Minimum
Shots
3 points
LF
Off
Def
Early
pd
party
Int
bp
CT
Points
2011-12
CHA
66
27
36.6
30.5
78.9
0.5
3.1
3.6
4.4
1.2
0.9
1.8
0.3
12.1
2012-13
CHA
82
35
42.3
32.2
79.8
0.7
2.7
3.5
5.7
1.9
2.0
2.4
0.4
17.7
2013-14
CHA
73
36
39.3
33.3
83.7
0.5
3.7
4.2
6.1
1.8
1.2
2.3
0.4
17.7
2014-15
CHA
62
34
38.5
30.4
82.7
0.6
3.0
3.6
5.1
1.5
1.4
1.6
0.5
17.3
2015-16
CHA
81
36
42.7
37.1
84.7
0.7
3.7
4.4
5.2
1.4
1.6
2.1
0.5
20.9
2016-17
CHA
79
35
44.3
39.9
84.7
0.6
3.3
3.9
5.5
1.5
1.1
2.1
0.3
23.2
2017-18
CHA
80
34
43.1
38.4
86.4
0.4
2.7
3.1
5.6
1.2
1.1
2.2
0.3
22.1
2018-19
CHA
82
35
43.4
35.6
84.4
0.6
3.8
4.4
5.9
1.6
1.2
2.6
0.4
25.6
2019-20
BOS
56
31
42.5
38.1
86.4
0.6
3.2
3.9
4.8
1.6
0.9
2.1
0.5
20.5
2020-21
BOS
43
32
42.0
36.0
89.9
0.4
3.6
4.0
4.9
1.4
1.1
2.1
0.3
19.3
2021-22
NYK
31
26
40.5
37.4
81.7
0.4
2.9
3.3
3.4
1.1
0.8
1.4
0.2
12.0
Total
735
33
41.8
36.1
84.0
0.6
3.3
3.8
5.3
1.5
1.3
2.1
0.4
19.5