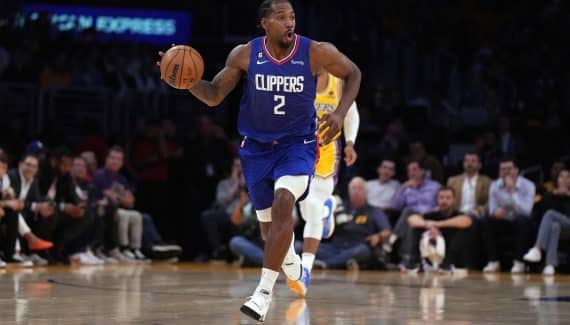 Yet replacing and limited to 20 minutes per game since the start of the regular season, Kawhi Leonard is already embarrassed by his right knee, operated in July 2021. The Clippers winger indeed remained on the bench in Oklahoma City on Tuesday evening.
And the double NBA champion will not play the revenge either (Los Angeles lost) scheduled for Thursday between the two teams since he will join Los Angeles this Wednesday, to receive treatment.
"After the shootaround, he felt a stiffness in his knee"explains Tyronn Lue to ESPN. "We want to be careful and make sure we do things right with him, even if he wants to play. It wouldn't have been smart. He can blame us if he wants to, but that's not smart right now. »
The Clippers coach clarified that the MVP of the 2019 Finals does not suffer from any relapse and that if he leaves for California, it is only to take advantage of better conditions to perform his care.
As for his participation in the meeting on Sunday, against New Orleans in Los Angeles, it will depend by then on the sensations of the former San Antonio and Toronto.
Kawhi Leonard
Percentage
Bounces
Season
Crew
GM
Minimum
Shots
3 points
LF
Off
Def
Early
pd
party
Int
bp
CT
Points
2011-12
SAN
64
24
49.3
37.6
77.3
1.6
3.5
5.1
1.1
1.4
1.3
0.7
0.4
7.9
2012-13
SAN
58
31
49.4
37.4
82.5
1.1
4.9
6.0
1.6
1.7
1.7
1.1
0.6
11.9
2013-14
SAN
66
29
52.2
37.9
80.2
1.2
5.1
6.2
2.0
1.9
1.7
1.2
0.8
12.8
2014-15
SAN
64
32
47.9
34.9
80.2
1.3
5.9
7.2
2.5
2.0
2.3
1.5
0.8
16.5
2015-16
SAN
72
33
50.6
44.3
87.4
1.3
5.5
6.9
2.6
1.9
1.8
1.5
1.0
21.2
2016-17
SAN
74
33
48.5
38.0
88.0
1.1
4.7
5.8
3.5
1.7
1.8
2.1
0.7
25.5
2017-18
SAN
9
23
46.8
31.4
81.6
0.7
4.0
4.7
2.3
1.0
2.0
1.8
1.0
16.2
2018-19
TOR
60
34
49.6
37.1
85.4
1.3
6.0
7.3
3.3
1.5
1.8
2.0
0.4
26.6
2019-20
LAKE
57
32
47.0
37.8
88.6
1.0
6.1
7.1
4.9
2.0
1.8
2.6
0.6
27.1
2020-21
LAKE
52
34
51.2
39.8
88.5
1.1
5.4
6.5
5.2
1.6
1.6
2.0
0.4
24.9
2022-23
LAKE
2
21
44.4
16.7
88.9
2.0
4.5
6.5
2.0
2.5
1.5
2.0
0.0
12.5
Total
578
31
49.3
38.4
85.8
1.2
5.2
6.4
2.9
1.7
1.8
1.6
0.6
19.2