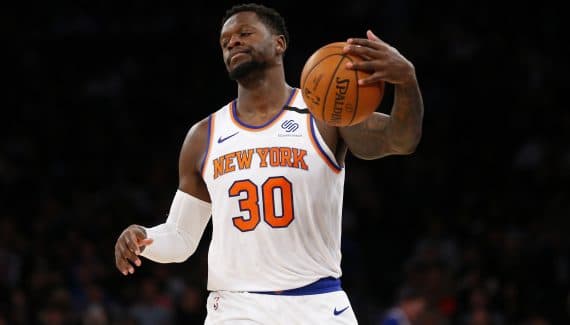 Julius Randle doesn't fit into the "snubbed" category of this year's All-Star Game. Selected for the first time during the previous edition, the interior of the Knicks was, unsurprisingly, not invited among the substitutes for the Cleveland all-star game.
" No ", he says when asked if he is disappointed not to receive a second star. In addition to the honorary dimension, its participation, or not, had a financial importance. Without All-Star Game this year, the player paid nearly 22 million dollars this season, will not receive a bonus of 600,000 dollars. " I try to win games, I get paid for it ", he recalls.
His non-selection is not surprising. Beyond his questioning on and off behaviors, the interior is experiencing statistical regression in almost every compartment, from average points, rebounds or assists to all address percentages.
" There's always a number of guys who deserve that don't get selected, notes his coach Tom Thibodeauconvinced that his player would have had his place. There aren't enough spots for guys who make All-Star seasons. A lot of that has to do with the success of the team. I know from voting that this is a difficult position for coaches. You end up with three or four guys for one or two places or one place. You wonder how you're going to determine who's really going to make it? In general, the criterion is the impact on the team. Which team is doing better?"
Clearly not the Knicks this season with their mediocre record (24 wins – 28 losses) and their modest 12th place in the Eastern Conference. The current difficulties, which contrast with the promises displayed last season, could also push the New Yorkers to move the workforce by next Thursday.
Asked about the emerging rumors, including a "swap" with the Kings between De'Aaron Fox and him, Julius Randle, who did not hide his annoyance in front of the journalist Marc Berman of the New York Post, sweeps: " Sounds like gossip to me."
Julius Randle
Percentage
Bounces
Season
Team
GM
Minimum
Shots
3 points
LF
Off
Def
Early
pd
party
Int
bp
CT
Points
2014-15
ALL
1
14
33.3
0.0
0.0
0.0
0.0
0.0
0.0
1.0
0.0
1.0
0.0
2.0
2015-16
ALL
81
28
42.9
27.8
71.5
2.1
8.1
10.2
1.8
3.0
0.7
1.8
0.4
11.4
2016-17
ALL
74
29
48.8
27.0
72.3
2.0
6.6
8.6
3.6
3.4
0.7
2.3
0.5
13.2
2017-18
ALL
82
27
55.8
22.2
71.8
2.2
5.8
8.0
2.6
3.3
0.5
2.6
0.6
16.1
2018-19
NOP
73
31
52.4
34.4
73.1
2.2
6.5
8.7
3.1
3.4
0.7
2.9
0.6
21.4
2019-20
NYK
64
33
46.0
27.7
73.3
2.4
7.4
9.7
3.1
2.8
0.8
3.0
0.3
19.5
2020-21
NYK
71
38
45.6
41.1
81.1
1.2
9.0
10.2
6.0
3.2
0.9
3.4
0.3
24.1
2021-22
NYK
50
35
41.4
30.3
75.4
1.8
8.1
9.9
5.1
2.8
0.8
3.5
0.6
18.5
Total
496
31
47.6
33.4
74.2
2.0
7.3
9.3
3.5
3.1
0.7
2.7
0.5
17.5