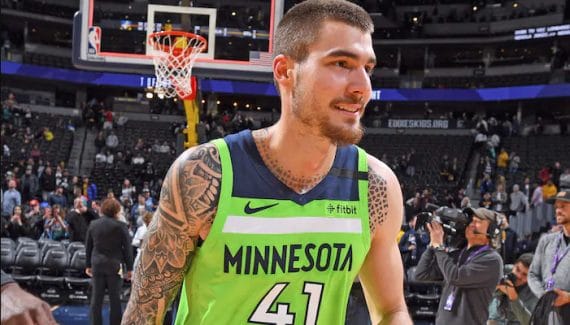 Freshly arrived in San Antonio following a triangle exchange also involving Boston and Denver, Juancho Hernangomez will benefit from a new opportunity to show himself in Texas after having had a complicated experience with the Celtics.
Post 3/4 said he was notified of his transfer by his brother Willy Hernangomez from the Pelicans as he returned from a dinner party without his phone.
"It's a crazy story. I was at dinner Tuesday night and didn't have my phone because someone took it from me after the Philadelphia game. ", he said. "He would say something like, 'Good luck with your new team. It'll be super'. I replied, 'What? Where am I transferred?'. He then told me that it was San Antonio. I was super happy, it's a great opportunity for me".
Boston, a quickly digested failure
Arriving in Boston at the start of the season from Minnesota, Juancho Hernangomez was never really integrated into Ime Udoka's rotation. An exchange was then the best possible outcome for him. He therefore leaves the Celtics without regret.
"It was a difficult time", he added. "I feel like I could have helped the team. I was ready for this opportunity, I was really excited to play for Boston, but it didn't work out the way everyone thought it would. But no regrets. It's like that. I tried to help young people. They have a lot of talent. I tried to be a good teammate and do everything I could. It was a great experience, in a great group, very talented but it was not the right time for me. There was no room for me".
Like his brother, Juancho Hernangomez has had ups and downs in his NBA career. In San Antonio, all the counters will be reset and it will be up to him to show the leaders of the Celtics that they were wrong to let him slip away.
At Spurs, he finds a player he remembers having met ten years ago, when he was then playing for Estudiantes: Jakob Poeltl.
"I met him when we were 16. I was playing with Estudiantes, and he came to try out in our team. I said to my coach: 'Coach, we have to bring him here to try to win the national under-18 championship'. But he went to the United States to study and now we are together. He did a good job. He knows how to play basketball. It's gonna be fun", he concluded after playing his first minutes in his new colors against Brooklyn.
Juancho Hernangomez
Percentage
Bounces
Season
Team
GM
Minimum
Shots
3 points
LF
Off
Def
Early
pd
party
Int
bp
CT
Points
2016-17
DEN
62
14
45.1
40.7
75.0
0.7
2.3
3.0
0.5
1.0
0.5
0.5
0.2
4.9
2017-18
DEN
25
11
38.7
28.0
83.3
0.7
1.4
2.2
0.5
1.0
0.2
0.4
0.1
3.3
2018-19
DEN
70
19
43.9
36.5
76.7
0.9
2.9
3.8
0.8
1.3
0.4
0.5
0.3
5.8
2019-20 *
All Teams
48
17
40.5
34.1
62.0
0.9
3.2
4.1
0.8
1.3
0.4
0.7
0.2
6.0
2019-20 *
DEN
34
12
34.5
25.0
64.0
0.7
2.1
2.8
0.7
0.9
0.2
0.5
0.2
3.2
2019-20 *
MIN
14
29
45.3
42.0
60.9
1.4
5.9
7.3
1.3
2.5
1.0
1.0
0.3
12.9
2020-21
MIN
52
17
43.5
32.7
61.9
0.9
3.1
3.9
0.7
1.0
0.4
0.5
0.1
7.2
2021-22
BOS
18
5
18.5
16.7
66.7
0.5
0.9
1.4
0.2
0.4
0.2
0.3
0.1
1.1
Total
275
16
42.4
34.6
69.2
0.8
2.6
3.4
0.6
1.1
0.4
0.5
0.2
5.4