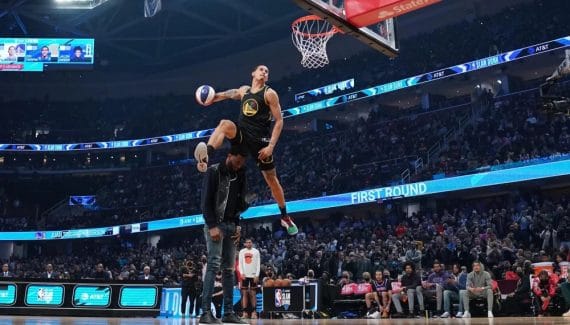 Finalist in a sad dunk contest, Juan Toscano-Anderson stood out for his tribute to Jason Richardson.
The former Warriors player is not necessarily the first name that comes up when talking about the legends of the Slam Dunk Contest, unlike those of Michael Jordan, Vince Carter or Zach LaVine. However, "J-Rich" won it twice, in 2002 and 2003, and performed a lot of superb dunks of timing and power.
So much so that in the final, the Golden State winger donned an old Warriors jersey, flocked with Richardson's #23. "JTA" even wanted to imitate one of the dunks of the 2003 contest, in Atlanta. But after several failed attempts, he had to admit his failure.
"This jersey is very nostalgic for me and it was obvious to wear it"he then explained for NBC Sports. " I'm a little disappointed. I hope Jason Richardson isn't disappointed, as I didn't get that dunk.
The former Golden State player wasn't as he picked up his phone to reach Juan Toscano-Anderson after the contest.
"It's a tough dunk"Jason Richardson reminded him. "I only passed it once, and it was in this contest. I am proud. You represent the Bay. I respect the way you play. So no need to worry about this failed dunk. "
Obviously, "JTA" was touched by this call. "It's fun. Your words are important to me. I watched you when I was a kid. You are a giant in my eyes. "
J-Rich showed JTA love after the Dunk Contest 🤝 pic.twitter.com/zn8ZGHmimo

— Warriors on NBCS (@NBCSWarriors) February 20, 2022
Juan Toscano Anderson
Percentage
Bounces
Season
Team
GM
Minimum
Shots
3 points
LF
Off
Def
Early
pd
party
Int
bp
CT
Points
2019-20
GOS
13
21
46.0
34.8
60.0
0.7
3.3
4.0
2.0
2.3
1.0
1.2
0.4
5.3
2020-21
GOS
53
21
57.9
40.2
71.0
0.6
3.9
4.4
2.8
2.1
0.8
1.2
0.5
5.7
2021-22
GOS
56
15
49.0
30.1
59.6
0.5
2.2
2.6
1.9
1.6
0.7
1.1
0.3
4.5
Total
122
18
52.5
35.6
63.4
0.5
3.0
3.6
2.3
1.9
0.8
1.1
0.4
5.1