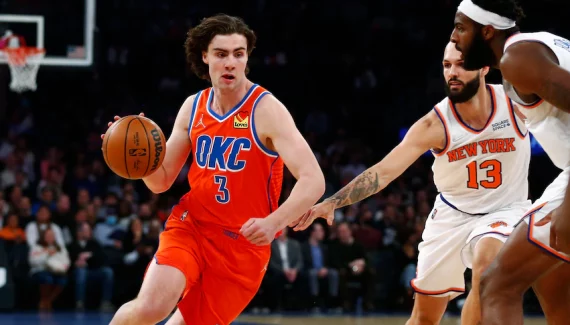 No Shai Gilgeous-Alexander, nor Luguentz Dort, but the Thunder played hard in this second part of the season, and Mark Daigneault's young squad created the small feat of winning 127-123 at Madison Square Garden. After extension!
We go straight into the "money time" with a masterful Josh Giddey on one side, and an effective five major Knicks. At the start of money time, the counters are tied (104-104), and everyone goes blow for blow. Evan Fournier thinks he did the hardest part by giving New York a four-point lead (110-106). But Tre Mann responds with careless mistakes from Tom Thibodeau's players who send the Thunder to the free throw line at the worst time.
Randle and company lose their cool, and with twenty seconds remaining, Giddey and his gang have a match point to snatch success from the Garden. Time-out then throw-in for Giddey who passes the ball to… Fournier who serves Quentin Grimes who will end up in the circle. But behind, Bazley will seek penetration and equalize. Extension !
On their way, the Giddey-Mann duo took control of the extension (116-112). Evan Fournier answers them with 3-pointers, but Tre Mann insists, and gives a six-point lead with 14 seconds remaining (126-120). Alec Burks maintains hope at 3-point range, then Ty Jerome misses two free throws. The Knicks have a ball to equalize, but Immanuel Quickley misses, and Oklahoma City wins 127-123!
WHAT YOU MUST REMEMBER
– Giddey, the guide! The Australian rookie likes to blacken the sheet, and he signs a triple-double for his first at the Garden. With 16 points (7/9 on shots, including 2/2 on three-pointers), 6 rebounds and 8 assists, Josh Giddey set the tone in the first half. Ultra complete, this is his 4th career triple-double. No one has done so well, so young.
– Bazley's 3rd fiery four-stroke. Before sending everyone into overtime, the left-handed winger at number 7 had made the powder talk in the third quarter, with 14 points and a good Josh Giddey agreement. By playing very simple, taking advantage of the generosity of the Bockers defense, the slender winger was hard-hitting, and provoked two big anger from Tom Thibodeau on his players…
– Mitchell Robinson, diligent and focused. The Knicks center was not handicapped by foul concerns. For the first time in his NBA career, he reached the end of regulation time without the slightest fault! He will take his very first foul of the game in the last minute of overtime when trying to counter an attempted dunk from Bazley. Result: an ultra-complete performance for him: 14 points, 17 rebounds, 4 steals and 4 blocks!
TOPS/FLOPS
✅ Josh Giddey. 19 years old, all his teeth and also a contagious carelessness. The rookie will not have missed his premiere at Madison Square Garden. With a super triple-double (28 points, 11 rebounds and 12 assists), he dazzled the Knicks, and could never really be put under glass by the New York defense. The Australian becomes the first foreign player to achieve a triple-double in his first at the Garden!
✅ Tre Mann. The back passed by Florida took full advantage of Giddey's caviar to show off, and was very smart in his offensive choices (30 points, 9/16 on shots). Free of almost any movement in attack, he feels the blows like few young people of his age in the league, and the game system put in place by Mark Daignault suits him perfectly. He's free, Mann, and at the Garden, there are even (many) who have seen him fly on two big dunks in transition.
✅ ⛔Julius Randle. The strong winger of the Knicks is better, and for his reunion with his public, he signs a triple-double. But his big performance is marred by his seven stray balls, and his lack of control in "money time" and overtime.
⛔ Kemba Walker. A new match and yet another disappointing performance for the titular leader. Walker puts no desire in defense, and has almost no iNFLuence in attack when he is on the ground. Despite his 9 points and 5 assists, the former All-Star is almost a shadow of himself, much to the chagrin of the many fans who wear his jersey in the stands of Madison Square Garden.
THE FOLLOWING
New York (25-33) : reception of the Nets on Wednesday for the derby of the Big Apple.
Oklahoma City (18-39) : return home on Wednesday to face Spurs.
Knicks

/

123
Shots
Bounces
Players
Minimum
Shots
3 points
LF
O
D
T
pd
party
Int
bp
CT
+/-
Points
Rating

J.Randle

45
11/26
1/5
7/7
13
13
10
6
7
-2
30
31

Mr Robinson

41
6/9
0/0
2/4
9
8
17
1
4
2
4
+1
14
32

K.Walker

26
3/9
2/5
1/1
1
2
3
5
1
2
+5
9
14

E. Fournier

45
10/18
6/13
3/3
2
2
4
5
2
2
1
-1
29
33

Q. Grimes

40
7/18
5/14
0/0
2
5
7
5
1
1
2
-2
19
17

O. Toppin

8
3/8
0/4
1/2
1
1
2
3
1
-2
7
2

C. Reddish

8
1/2
0/0
0/0
1
-1
2
1

T.Gibson

12
1/1
0/0
0/0
3
1
4
3
1
-4
2
7

A. Burks

27
3/11
1/5
4/5
1
5
6
3
2
1
2
-9
11
12

I. Quickley

14
0/7
0/5
0/0
5
2
2
-5
-4
Total
45/109
15/51
18/22
19
37
56
28
25
8
14
12
123
Thunder

/

127
Shots
Bounces
Players
Minimum
Shots
3 points
LF
O
D
T
pd
party
Int
bp
CT
+/-
Points
Rating

I. Roby

22
3/6
0/1
0/2
2
4
6
5
1
-15
6
8

D. Bazley

40
8/17
2/6
5/7
1
7
8
3
2
1
+2
23
24

T. Mann

32
9/16
4/7
8/8
2
2
1
2
1
-10
30
27

A. Wiggins

34
1/5
0/3
0/0
3
3
3
1
1
-11
2
5

J.Giddey

39
11/22
3/4
3/6
2
9
11
12
1
1
7
+6
28
31

K.Williams

27
6/9
1/4
0/0
4
4
3
4
1
+16
13
18

D.Favors

21
5/6
0/1
0/0
1
3
4
4
1
1
+18
10
13

A. Pokusevsky

20
1/6
0/3
0/0
1
3
4
1
1
+10
2
3

T. Maledon

7
0/2
0/1
0/0
2
2
1
1
+1

T.Jerome

19
4/7
3/4
2/4
1
1
4
1
1
+4
13
14

V.Krejci

5
0/0
0/0
0/0
1
1
1
1
-1
Total
48/96
13/34
18/27
8
38
46
28
19
9
11
1
127