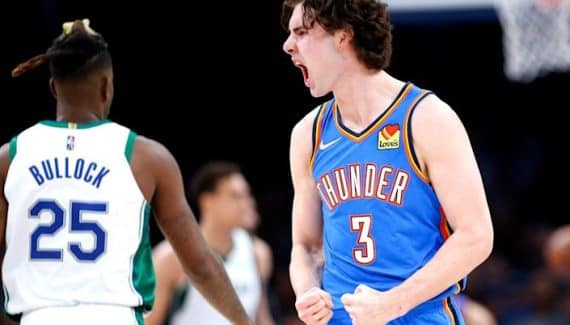 Josh Giddey caused a stir during his rookie season and knows he will be expected as soon as the 2022/23 restart. While the Thunder lost Chet Holgrem for the season, the team got a big rookie in their coaching staff by bringing in Chip Engelland, one of the league's top shooting specialists, to try to continue their progression.
The Australian was also enthusiastic about this opportunity to improve his shot.
"Shooting was an important point for me during the offseason", he confided. "I spent a lot of time in the hall preparing for the shots. Obviously, having Chip Engelland here, who is one of the best shooting coaches, if not the best, is perfect for me to use as much as possible. He was awesome".
To describe the "Engelland method", Josh Giddey had to search for his words. "Chip is hard to explain. He's a magician at what he does."
"It's not necessarily heterodox, but it's different from all the other coaches I've had who said to me, 'Shoot this way'. Chip is one of the best guys I've met. He did that for so long with San Antonio. When I found out he was coming to OKC, I was very excited and knew I was going to spend a lot of time with him. He was awesome and I look forward to continuing to work with him."
Bodybuilding also on the program
After a first season unfortunately stopped at the end of February due to a hip injury, it was also necessary to redouble our efforts to be more ready on a physical level. The objective for his second year will be to hold on for an entire regular season.
"My body is fine, I'm ready to go again. We have excellent medical staff here. They take great care of all of us. They just refined the things I needed for my body. It was clear that it was important to take care of my hip last year. I spent a lot of time in the weight room to make sure that those little glitches that occur throughout the year can be avoided as much as possible and that I can play 82 healthy matches. It's a long season, so taking care of your body is very important for an NBA player." thus entrusted Josh Giddey to conclude.
Josh Giddey
Percentage
Bounces
Season
Crew
GM
Minimum
Shots
3 points
LF
Off
Def
Early
pd
party
Int
bp
CT
Points
2021-22
OKAY
54
32
41.9
26.3
70.9
1.8
6.0
7.8
6.4
1.6
0.9
3.2
0.4
12.5
Total
54
32
41.9
26.3
70.9
1.8
6.0
7.8
6.4
1.6
0.9
3.2
0.4
12.5